WNC Medicinal Herb Growers
The Western North Carolina Medicinal Herb Growers is a group of NC Extension educators, herb farmers, and serious herb gardeners interested in gaining experience in growing medicinal herbs and learning more about them. The group first organized in the fall of 2013 and has met under the names of the WNC Herb Club, the WNC Medicinal Herb Club, the WNC Medicinal Herb Growers Club, and most recently, the WNC Medicinal Herb Growers. They are an active group that meets every month or so on herb farms in the western third of the state to get hands-on experience with all aspects of medicinal herb growing, post-harvest handling, and marketing. It is a very social group, so a pot-luck lunch is often part of the event.
To get on the mailing list for this group, please email Meghan_Baker@ncsu.edu and put "WNC Medicinal Herb Growers" in the subject line.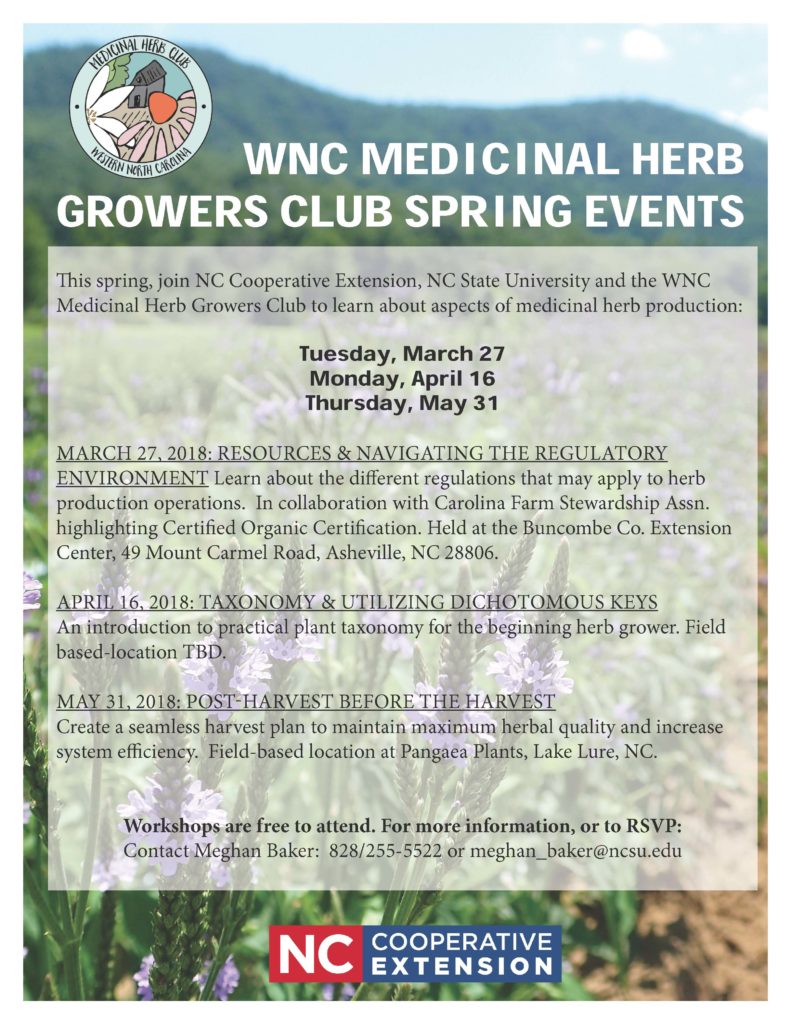 Woodland Stewards is a group within the WNC Medicinal Herb Growers who are beginning forest farmers that meet monthly for hands-on programming at the demonstration woods of the Mountain Horticultural Crops Research and Extension Center, Mills River, NC. Under the leadership of Margaret Bloomquist, research assistant, and the WNC Medicinal Herb Growers Captains, the Woodland Stewards are embarking on their 3rd year of monthly gatherings and work parties. This includes participation in research and extension efforts of our native woodland botanicals; the maintenance, growth, and harvesting of woodland medicinals at the Mills River demonstration site; site visits, mentorship, and work parties at woodland stewards' properties; plant rescues; and more!
Thanks to the Appalachian Beginning Forest Farmer Coalition funded by the USDA Beginning Farmer and Rancher Development Program for support to continue our efforts.
To get on the mailing list for the Woodland Stewards, please email Margaret_Bloomquist@ncsu.edu.
Here is the most current announcement of events for the Woodland Stewards as of February 20, 2018:
Please mark your calendars and RSVP for the following 2018 dates and additional information about locations, etc. Each one is from 9 a.m.-1 p.m. with an optional potluck to follow.
2018 Dates at Mills River Demonstration Site – Weather Dependent
Friday March 16th- Propagation and Bed Maintenance
Friday April 13th- Identification of Emerging Medicinals and Natives
Friday May 11th – Summer Preparation of Woodland Beds
We are excited to name our core group of woodland stewards from 2016-2017 as Woodland Curators!
Congratulations, and many thanks to David Brown, Lorri Bura, Kelly Lockamy, and Aimee Adams for their contributions to the WNC Woodland Stewards – we look forward to your continued participation and mentorship of the next round of woodland stewards.
And we are currently recruiting new WNC Woodland Stewards to help shape our 2018 spring and fall gatherings – Please email Margaret_Bloomquist@ncsu.edu with your interest.
See News for WNC Medicinal Herb Growers