Herb Connection-to Help Match NC Growers With Buyers
For Commercial Growers and Buyers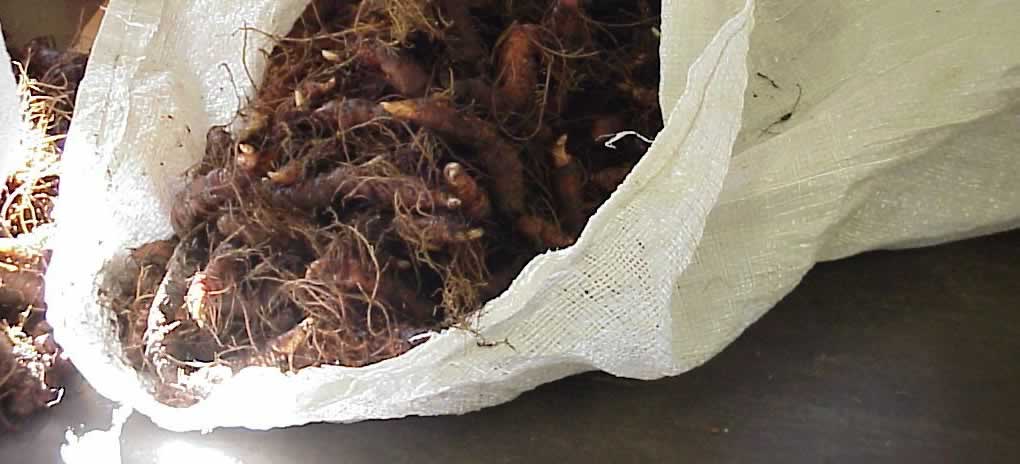 The purpose of this page is to help North Carolina medicinal herb growers connect with buyers to start building long-term relationships. If you are a buyer looking for a particular herb, please let me know what you want and in what volume. Be sure to date how long your request is good for (or it will be indefinite) and include contact information. North Carolina growers, if you have herb available now or in the near future, explain what you have and in what volumes. If you want to remain anonymous, please indicate such and we will have initial communications go to us. I will read your submission (and contact you if I have any questions), and post it in the Wanted or Available section below. Both growers and buyers should email their information to Jeanine_Davis@ncsu.edu and put "Herb Connection" in the subject line.
Because this is a regional industry, occasionally growers from other states will also be listed.
Growers, please be sure to practice the Suggested Good Agricultural Practices for Medicinal Herbs. We offered training on that in April 2015 and the videos are posted on our YouTube channel. The extension publication on the topic is linked here. We understand that sometimes you want to work in confidence or need personal assistance. We still offer that service on a limited basis. Please contact Margaret at Margaret_Bloomquist@ncsu.edu. She will be happy to assist you.
Disclaimer: We offer this page as a free service to help this industry grow. We know and interact with the growers and buyers listed here, but we do not certify, inspect, or vet the products listed for sale or the companies listed as buyers. We cannot vouch for the identify, cleanliness or safety of the products offered or the business practices of the buyers. Please do your own due diligence in "checking them out".
---
AVAILABLE (For Sale by Growers):
Janice Johnson (2/12/2018)
800 pounds frozen, vacuum sealed dark Aronia berries

5 pounds elder flowers, frozen, vacuum sealed
I am located in Surry County. You can reach me at 336-351-4301.
Maple Spring Gardens (2/8/2018)
Cedar Grove, NC (Piedmont)
We offer several varieties of Medicinal Herbs both fresh and dried. Naturally & consciously grown, hand cultivated & hand harvested, all herbs are processed with high quality control.
A few of our abundant crops are:
Calendula
Tulsi
Nettles
Blue Vervain
Burdock
Turmeric
Skullcap
Comfrey
Peppermint
Milky Oats
Gotu Kola
For a full list of herbs grown and to download a PreOrder form for 2018, visit our website here: http://www.maplespringgardens.com/herbs.html
Contact:  Sunshine Dawson blissfulsunshine@gmail.com
Pangaea Plants LLC (1/11/2018)
Certified Organic, Certified Biodynamic and GAP Certified (2015)
Located near Asheville N.C.
Anise hyssop, Agastache foeniculum
Blue vervain, Verbena hastate
Echinacea purpurea
Holy basil (Tulsi Kapor, herb and seed), Ocinum sanctum
Lemon balm, Melissa officinalis
Passionflower official, Passiflora incarnata (Aerial parts in bloom and seed)
Skullcap Of., Scutellaria lateriflora (Root and seed)
Yarrow Of.
Other Wild, Native, annual, perennial, medicinal herbs.
Contact: pangaeaplants@gmail.com
Green Heart Gardens (1/8/2018)
Certified Organic. Candler, NC
Tulsi, Ocimum sanctum (Kapoor)  7lbs 15.5oz
Blue Hyssop, Hyssopus oficionallis   6.5oz
Boneset, Eupatorium perfoliatum  4lbs 11.25oz
Catnip, Nepeta cataria   1lb 2.5oz
Comfrey Root, Symphytum uplandicum  2lbs 7oz
Elecampagne Root, Inula helenium 1lb 3.5oz
Greater Celendine, Chelidonium majus   4oz
Hops, Humulus lupulus  9.25oz
Lemon Balm, Melissa officionalis   1lb .25oz
Marshmallow root, Althaea officinalis   4.75oz
Passionflower, Passiflora incarnata  3lbs .5oz
Skullcap, Scutellaria lateriflora    14.5oz
Valerian Root, Valerian officinalis  2lbs 2.5oz
Wormwood, Artemisia absinthim  8.5oz
Yarrow, Achillea millefolium   1lb 14.75oz
Contact: Lorri Bura greenheartgardensnc@gmail.com
Our Friendly Allies (10/13/17)
Marshall, NC (mountains)
Grown without chemicals, naturally grown and hand harvested.
Herbs Available Now. Dried.
Dandelion, Taraxacum officinale Leaf $16.00 per lb
Echinacea purpurea Tops/Leaf $20.00 per lb
Marshmallow, Althaea officinalis Leaf/Flower $20.00
St. Johns Wort, Hypericum perforatum Flowering Tops $25.00 per lb
Yarrow, Achillea millefolium Flowering Tops $20.00
Herbs Available Starting Nov~Dec 2017. Fresh.
Comfrey True, Symphytum officinale 2yr Roots $13.00 per lb
Echinacea purpurea 2yr Roots $16.00 per lb
Marshmallow, Althaea officinalis 2yr Roots $13.00 per lb
Contact: OurFriendlyAllies@gmail.com or call 828~206~1421
Website: Ourfriendlyallies.com
---
WANTED (Buyers looking for product):
Vance Etheridge (8/22/2018)
Looking for fresh stinging nettle leaves. Located in eastern NC. Please contact Vance at vancethe35@gmail.com.
Blue Mountain Trading & Gardens (8/6/2018)
In search of fresh or dried NC, Organically Grown herbs.
Will need on a regular basis. Please respond with availability & pricing.
Goldenseal Root
White Cedar Tips
Witch Hazel
Lobelia
Gotu Kola
Yarrow
Comfrey Leaf/Flower
Calendula
Contact Clare Schwartz, clare@woundedwarriorointment.com
Julio Acevedo (4/1/2018)

I am interested in purchasing fresh rue by the pound to distribute in the New York City/Tri-State area. All year round supply would be ideal. I would also like to purchase dried rue in bulk. Please contact me at 845-820-5606.
Josephine Porter Institute for Applied Biodynamics (2/21/2018)
We are looking for bulk (25-75 lbs) amounts of the following:
Horsetail (shaved grass) Equisetum arvense)
German Chamomile (flowers) Matricaria recutita L.
Please call or email Alee Epperly at 540-745-7030 or jpiadmin@jpibiodynamics.org
Botanic Synergy (1/30/18)

I am a clinical aromatherapist in Wilmington, NC. I steam distill my own essential oils and hydrosols. I am searching for bulk amounts (20-50 lbs) of aromatic herbs. Specific plants would be clary sage, rosemary, peppermint, marjoram, sweetgrass, lemongrass, lemon balm, etc. I prefer the plants to be grown eco cert or organic. I am able to travel to farms for the plant material.
Contact: Kelly Smith at Mercury_Rising@outlook.com
Business website is: www.botanicsynergy.com
Heilbron Herbs (1/15/18)
Heilbron Herbs is a botanical processor and brand outside of Asheville, NC. I am working with regional growers to source fresh herbs upon harvest – the plant material will be dried in my drying facility, processed/sized if needed, and distributed through my brand to manufacturers and online to individuals. I also plan to offer drying and cut/sift processing as a service to growers who have their own sales avenues.
If you would be interested in talking about growing one or more herbs for me next year, please be in touch and I would love to talk about collaborating.
SARALYN BELLMER   641.919.7455
Blue Ridge Aromatics (12/21/17)
I'm looking for fresh, not dried harvests and anywhere from 20 lbs to a couple hundred lbs at a time. Organic or biodynamic growing methods are a requirement but certification isn't. Here is a list of herbs I am interested in:
Rose (Flowers – Including multiflora)
Kudzu (Flowers)
Lavender
Oregano
Thyme
Peppermint
Spearmint
Tulsi (Holy Basil)
Other Basil Spp
Melissa (Lemon Balm)
Cannabis
Rosemary
Scented Geranium (Rose is most desirable)
Patchoulli
Catnip
Monarda (Bee Balm) Spp
Lemongrass
Trifoliate (Hardy) Orange (Ripe peels/green peels/flowers/leaves)
Clary Sage
Other Sage Spp
Yarrow
Mugwort
Hyssop
Roman Chamomile
German Chamomile
Hops
Daisy Fleabane (Flowers)
Goldenrod (Flowers)
Mountain Mint
Spicebush (Lindera) (Twigs & Leaves)
Sweetshrub (Calycanthus) (Twigs)
Sassafrass (Twigs)
Sweet Birch (Twigs)
Fraser Fir (Needles/Branches)
Eastern Hemlock (Needles/Branches)
Red/Blue/Black/Norway Spruce (Needles/Branches)
Juniper (E. Red Cedar) (Needles/branches/berries/red sawdust or chips)
Arborvitae/White Cedar (Needles/Branches)
Contact: Ian Montgomery by phone at 828-545-3963 or by email at ian@blueridgearomatics.com
Business website is: http://blueridgearomatics.com
Established North Carolina Company (12/5/17)
Established North Carolina company is seeking experienced grower(s) interested in cultivation of Arnica montana, dry whole plant for 2018. Annual Quantity 1000#+ per year. Would give confirmed contract.
Also looking for:
110# dry Tobacco leaf
4# fresh spiny leaves Onopordon acanthium (Scotch Cotton Thistle)
Contact: Margaret_Bloomquist@ncsu.edu to discuss
Judit Beres, Neomega Nutritionals (8/29/2017)

I am looking for NC farmers to grow rosemary and basil for my product in large quantities.
Judit Beres, Founder
Neomega Nutritionals , LLC
Phone: 1-800-717-1645
Cell: 919-928-3151
www.neomega3.com
Jessie Dean, Asheville Tea Company L.L.C., (8/14/17)
ashevilleteaco@gmail.com   828.545.3341
Asheville Tea Company (a new tea blending business focused on locally-sourced craft tea blends), searching for a number of dried herbs/ botanicals in quantities of 2-3 pounds each.
Dried herbs needed:
Chamomile flower
Anise Hyssop
Calendula
Lavender flower
Tulsi basil
Coriander
Chrysanthemum
Elderflower & Elderberry
Oatstraw & Milky Oats
Pineapple Sage Flower (& possibly leaf)
Honeysuckle
Lime Basil
Echinacea flower and leaf
Spicebush leaf and berry
Red Raspberry Leaf
Spearmint
Blackberry Leaf
Hops
Stinging Nettle
Peppermint
Mountain Mint
Various Basils & Mints (sweet basil, blue spice basil, cinnamon basil, apple mint, chocolate mint, orange mint, etc.)
Birch Bark
Lemongrass
Lemon Balm
Dandelion
Dried berries- Blueberry, Strawberry, Raspberry, Blackberry, Mulberry, etc
Roselle/ Hibiscus
Bergamot flower
Burdock
Passionflower
Fennel
Turmeric
Skullcap
Ginger
Bitter Orange
Rose- Petals and Hips
Dried Apples, other dried fruits
Ginseng
Yaupon tea
Wintergreen
Rosemary
Tarragon
Camelia Sinensis (tea)
Jeannie Dunn, RedMoonHerbs.com (7/27/17)
Reply to: Jeannie@RedMoonHerbs.com
Dried Red clover blossoms
Dried Linden flower whole
Dried Comfrey cut/sift
Dried Nettles cut/sift
Dried Oatstraw cut/sift
Fresh and/or Dried Ginseng Leaf and Stem
Fresh and/or Dried Goldenseal Leaf and Stem
Fresh young motherwort leaf (very early spring) 4″ tops
Fresh or Dried Elderberries
Dried Calendula Flowers
Eastern Osha (fresh)
Local beeswax
From conscientious NC growers/wildcrafters (or those in a 150 mile radius) who practice organic farming and sustainable wild-harvesting. Please call to discuss quantity, quality and price!
Domestic Reputable Buyer (July 2017)
Seeking Forest Grown verified black cohosh and ginseng leaves
Contact: Margaret_Bloomquist@ncsu.edu for more information.
Christina, Golden Needle (2/22/2017)
Reply to: christina@goldenneedleonline.com
Golden Needle is looking for locally grown Chinese and Western herbs in 1 lb quantities, dried. Wild-crafted or cultivated under organic growing methods.