An Update on Our Field Research-Hemp, Ginseng, and More!
Find this article at:
go.ncsu.edu/readext?706034
6/30/2020 – We have been a little quiet online lately as our team is learning how to manage our research and extension program under state and university mandated COVID-19-related restrictions. Our program is running at about 70% this season so we can keep everyone as safe as possible and not overtax our research stations or put too many people in one place at a time. But we do have field research on research stations and on farms across the region, our graduate students are busy, our home offices are set up, and we are all now pros on Zoom!
Our program has always held many hands-on workshops and field days during the growing season, but we will not be doing that this year. We do plan on participating in some virtual field days and will continue with some workshops and training over Zoom. For examples of NC State University virtual field days, take a look at one or both of these: Strawberry and Small Grains. You can stay current with our program and upcoming program events by subscribing to our news updates (go to Let's Stay in Touch and click on New Crops and Organics). The main purpose of today's post is to let you know about some of the research we have going on in the field this season.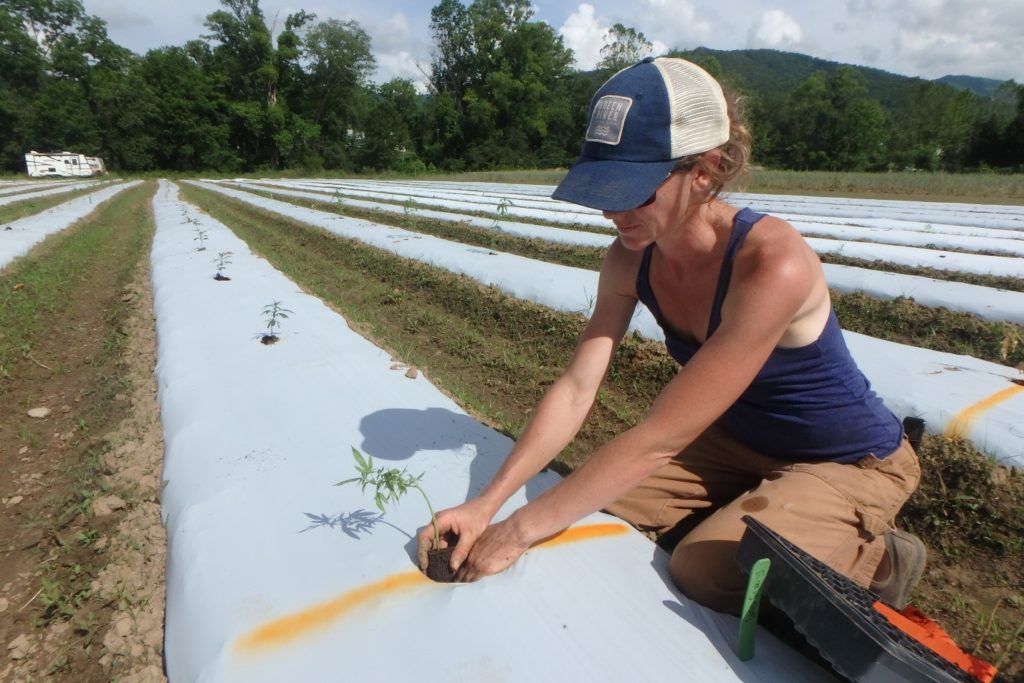 In cooperation with Dr. David Suchoff in the Crop and Soil Sciences Department, we are conducting three floral hemp variety trials across the state. Here, Research Associate, Margaret Bloomquist, is transplanting the last of our western NC 11-strain variety trial. Plants were donated by Rye's Greenhouses, Triangle Hemp, High-Grade Hemp, CO CBD, and Wulf Hemp. This trial is taking place at an on-farm location in Buncombe County. More information and news updates on the NC Hemp program can be found on our NC State Hemp Website.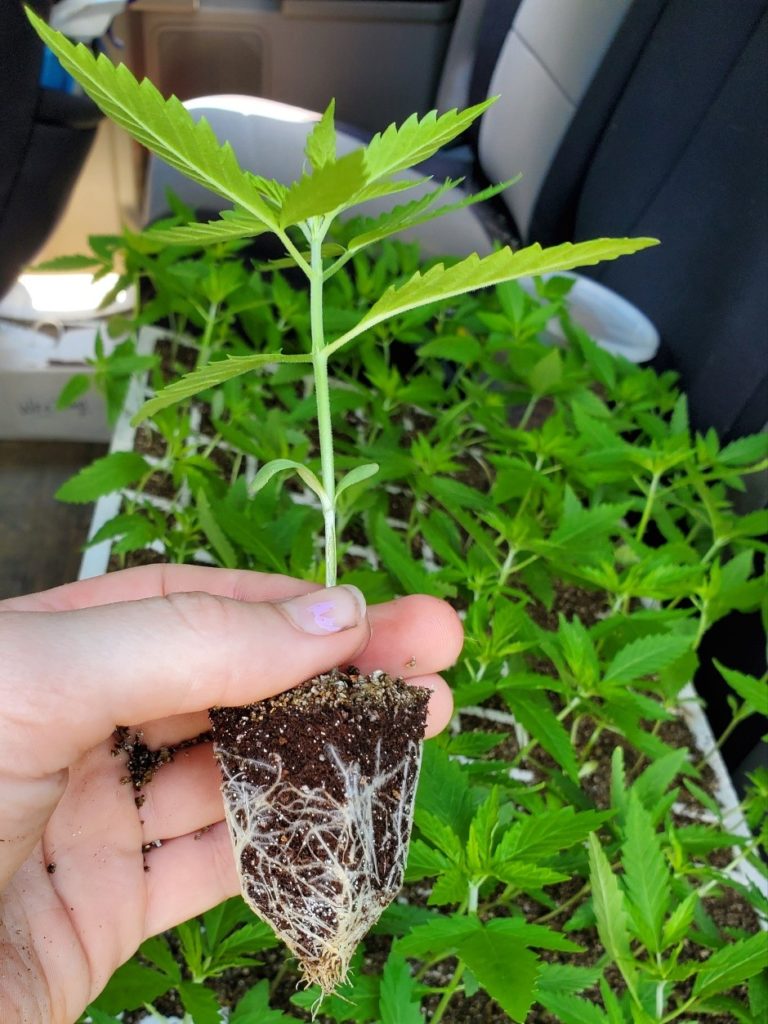 This is a 'Sweeten' clone that was planted in our on-farm hemp variety trial. Many of our clone donors grew their plants in styrofoam trays in a float system to ensure proper watering and optimal root growth.
For the second year, graduate students, Meagan Coneybeer and Gwen Casebeer have established their colored mulch hemp studies on farms in Buncombe and Caldwell counties. A big thank you to all our on-farm cooperators!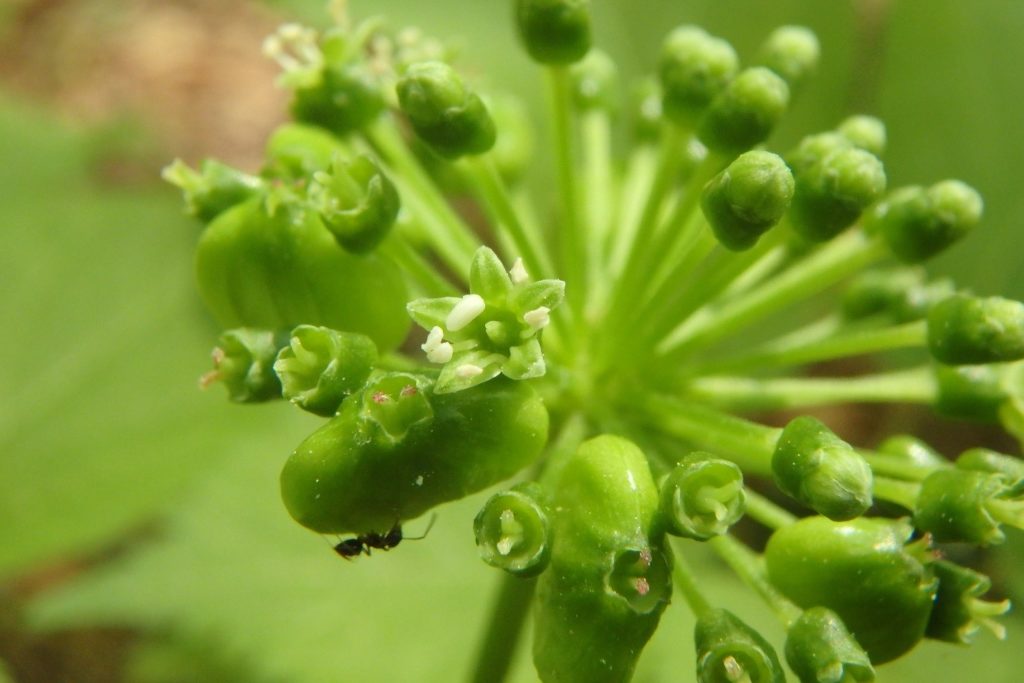 Our research and extension activities on native woodland medicinal plants continue with support from the U.S. Forest Service and the USDA/NIFA Beginning Farmer and Rancher grant supporting the Appalachian Beginning Forest Farmers Coalition. Here a ginseng flower is just beginning to set seed in one of our woodland research plots. We also have new propagation beds for goldenseal.
Research on cultivating ramps also continues. Here, a research technician, Chloe Moore, collects data on flower scape development.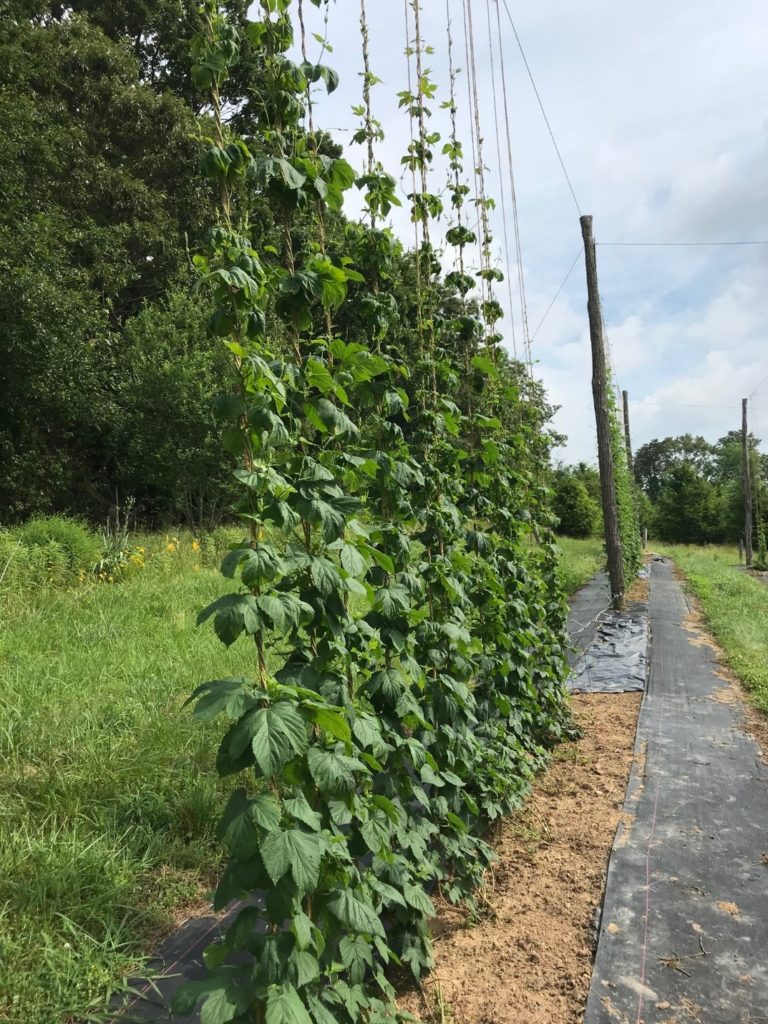 Our hops research program is primarily focused on breeding hop varieties for the Southern region. Here are some of Dr. Luping Qu's advanced hop lines in our original hop yard in Mills River.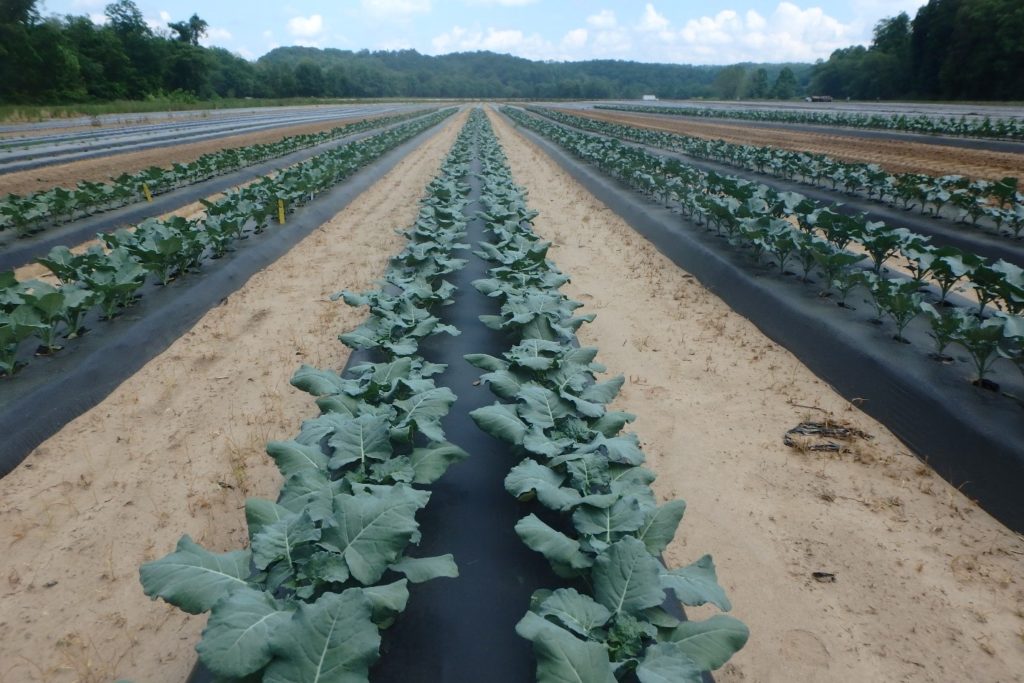 The Eastern Broccoli Project is a multi-state project ranging from Maine to Florida. This is our western North Carolina yield trial in its 3rd week of growth. This trial is grown on-farm by Irma's Produce in Buncombe County. There are six varieties planted and we expect to begin to see heading within the next month.
The COVID-19 research restrictions have had a big impact on our program and our budgets. Many of our grants have been extended but without additional funds. We are seeking funds so we can keep our great team of researchers and graduate students employed. If you would like to help, you can donate online to our program by following this link: Friends of the NC Alternative Crops and Organics Program
A big thank you to research technician and graduate student, Katie Learn, for assembling these photos for our update!