It's beginning to look a lot like broccoli – then and now!
Find this article at:
go.ncsu.edu/readext?466546
Posted On

February 16, 2015
7/5/2021 – The post below was written in 2015. This project is going through 2021. Be sure to look at what has happened since with our broccoli projects. Just search for "broccoli" in our website
2/16/2015 – Margaret Bloomquist is a research assistant in my program. She coordinates all of our broccoli projects and she wrote this blog post to keep you informed about our activities with broccoli. We are gearing up for another summer of broccoli research! There is a lot of excitement throughout the state for broccoli as a new cash crop for conventional and organic growers. Our efforts at the Mountain Research Station in Waynesville, NC are complemented with on-farm trials at six regional farms. Stay tuned for updates on participating growers and opportunities for education and collaboration throughout the season.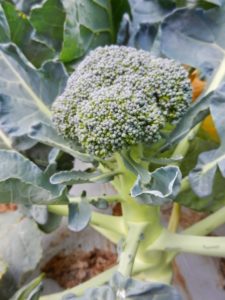 This multi-state research project is in its fifth year. The project goal is to create and sustain an East Coast broccoli industry. Public and private breeders are working to develop varieties specifically for East Coast conditions. Our role is to grow out these new breeding lines and compare them to existing varieties.
This is also being done at locations in Maine, New York, Virginia, and South Carolina. These trials contribute invaluable information for the breeders in developing regionally-adapted varieties, improving quality, and heat tolerance. Other important aspects considered in our research include field management, marketing, and nutrition.
Because of our high elevation and cooler temperatures, WNC is uniquely situated to grow broccoli through the summer months, potentially filling a supply gap and creating a new market for mountain growers.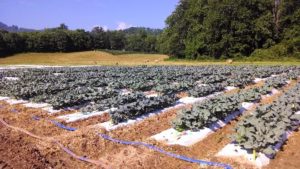 Research Station Field, 2014 Phase I and II Trials
Our large breeding lines screening trials (called Phase I trials) and trials in which we look at a smaller number of more advanced lines at five planting dates (called Phase II trials) will continue at the Waynesville research station this season, where we've looked at over 85 new broccoli breeding lines to date! Our Phase III trials bring the best performing varieties to our local farms to study how they produce under "real life" conditions. Three cooperating farms in Henderson County will grow out the top three varieties from research station trials this summer season.
This project is led by Cornell University, and is funded by USDA-SCRI program.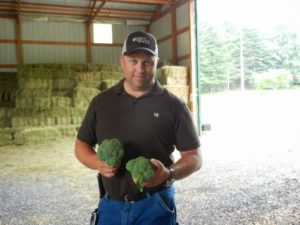 Jason Davis of North River Farms with 2014 Phase III Broccoli Harvest
WNC Participatory Organic Broccoli Project
Not all conventional varieties perform the same under organic management. The goal of our third funded year of organic broccoli research, made possible by the Organic Farming Research Foundation, is to look at the best available organic varieties for western North Carolina organic farms. We trialed 30 varieties at the Organic Unit of the Mountain Research Station in 2012 and 2013.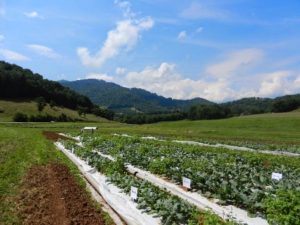 2013 Organic Broccoli Variety Trial, Mountain Research Station
In 2014 and again for the 2015 season, we will bring the top six varieties for summer broccoli crown production to our area farms. Three organic farms in the region will participate this year with on-farm trials utilizing variety selection and best system management practices developed through the project.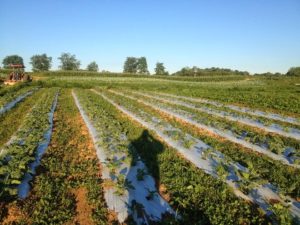 2014 On-farm broccoli trial, Grassy Branch, NC