Medicinal Herb Buyers Looking for Experienced Farmers
Find this article at:
go.ncsu.edu/readext?466568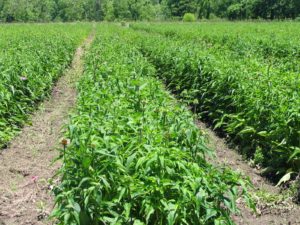 1/4/2021 – The article below was written almost seven years ago, but we still have herbal manufacturers looking for US grown medicinal herbs! Subscribe to our News Updates to stay informed about opportunities and events to help connect growers and buyers.
4/10/2014 – There is an unmet demand for US grown medicinal herbs of all kinds. Traditionally, the majority of these herbs were sourced from overseas, but the new Good Manufacturing Practices and existing and proposed Food Safety rules and guidelines are forcing buyers to source from the US. The problem is, there aren't enough experienced growers. Since late last summer we have held three workshops in WNC for potential growers to meet with buyers. Some of these are among the biggest medicinal herb buyers in the country. These workshops have been very well attended, but most of the attendees are new farmers. That is very exciting and we are doing all we can to assist them, but some of these buyers need herbs grown right now, on a large scale by experienced farmers.
Some of these herbs are grown in the woods and take several years to reach harvestable stage. Once planted, they don't require much input. Others are field grown annual or two year crop herbs that could be worked into a rotation with vegetables, corn, tobacco, or grain crops. There are several buyers that have emailed me this week looking for farmers. If you are interested in talking with one of them, please drop me an email at Jeanine_Davis@ncsu.edu.
In my program we have conducted research and educational programming on production of medicinal herbs for many years, so we know quite a bit about growing them. Some of the buyers do, too. That said, these medicinal herbs are still "new crops", so we can't provide the detailed production information and problem solving support as we (N.C. Cooperative Extension) can for vegetables, tobacco, and field crops. But prices are going up for these herbs, so it might be an opportunity for some of you.