Medicinal Herb Buyers and Growers Connect! What a Great Conference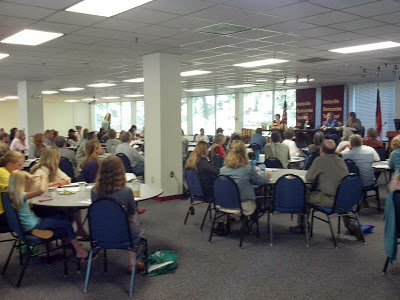 On September 14, 2013 we held a historic conference in Asheville, NC. A large group of us have been working for many years to help grow the western NC natural products industry, from seed to finished product. Some parts of that process have been moving along quite nicely, but we were still struggling with sourcing local raw materials for manufacturers. Buyers were looking for growers but didn't know where to find them and growers were looking for buyers and didn't have a clue who they were.
This event was designed to help connect current and potential medicinal plant growers with manufacturers and raw material buyers. It featured panels of new and experienced medicinal herb growers and natural products buyers/manufacturers to discuss their unique experiences, challenges, goals, and needs as it relates to natural products and raw materials. There was time for discussions between growers and buyers. There was also a presentation on the new Blue Ridge Naturally branding effort, created to raise the awareness of the superiority of botanical raw materials and quality natural products (personal care, pet care, cleaning, tinctures and supplements, functional food and beverages) from the Blue Ridge Mountains region of North Carolina.
The event drew over 110 people and was, in my opinion, very successful. There was enthusiasm and lots of networking going on. The next step will be to design a way for growers and buyers to continue to network and form relationships. This will probably involve a web based program that everyone can subscribe to. Although there will be an open forum section, most agreed that there also needs to be a way that business transactions cam take place in a more private setting, probably with a trusted coordinator so buyers and growers could keep prices, quantities, and other business issues off the open forum. We used a similar model years ago and will try to build on what we did then.
People who attended the conference and many who could not make it asked for some kind of proceedings from the event. I took notes on my laptop as I moderated the event. All the panel participants agreed that making these notes available to the public would be helpful. Please keep in mind I was taking notes while moderating the event, so they are not professional proceedings and often written in shorthand, but they will give you a good idea of what took place at the meeting.
There will be follow-up events and actions, so stay tuned. If you want to discuss this more, please contact my employee who is leading this project: Alison Dressler, Alison_Dressler@ncsu.edu or 828-684-3562. Following this blog will help you stay current.