Planted Weed Management Study in Organic Research Unit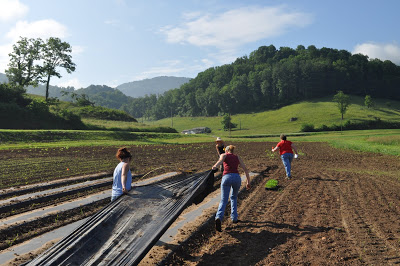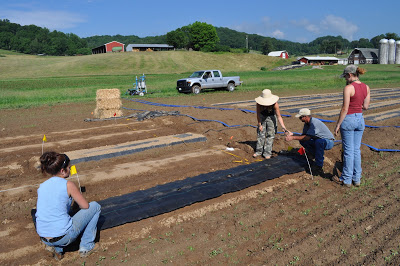 Pulling the plastic off the plots.
Yesterday, we established the first study in the new organic research unit at the Mountain Research Station in Waynesville, NC. When I ask local organic farmers what their biggest challenge is to growing organically in western North Carolina, almost without exception, the answer is WEEDS! We grow beautiful crops in this region and abundant, healthy, vigorous weeds, too. Farmers report that the amount of labor it takes to properly control weeds in their crops, i.e., keep the populations low enough so they do not adversely affect yields, is often cost prohibitive. There are often long discussions about which is better: bare ground, black plastic, a living mulch, etc. Everyone has an opinion, but we couldn't find any data from this region to tell us for sure.
So the objective of the study we installed yesterday was to determine which mulch reduced time spent weeding the most. Bell pepper was the crop of choice. The mulch treatments are black plastic mulch, landscape fabric, straw mulch, and red clover as a living mulch. A few weeks ago, five beds were created with drip irrigation and black plastic. Yesterday we ripped the plastic off all but the black plastic treatment plots (that way all the plots started out the same).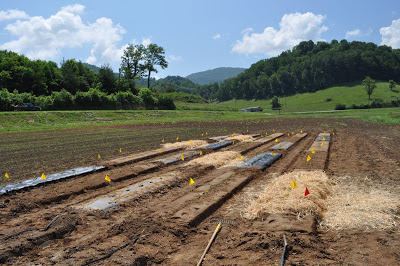 Putting down the landscape fabric.
Then we applied the landscape fabric treatments. The holes had been burned in previously using a propane torch. The fabric was secured using landscape staples. Then we planted the pepper transplants.
A thick layer of straw mulch was applied to four plots.
Finally, we spread clean wheat straw on four plots and sowed red clover seed on four others. Four of the plots were left with no mulch treatment-just bare ground. Fish emulsion was run through the drip irrigation system to give the plants a good start.
The plan is that once a week we will weed the plots, timing how long it takes to weed each one. We will also collect data on insects, diseases, and pepper yields. At the end of the season, we will calculate how much it cost to produce peppers in each system (cost of materials and labor to weed) and how much income could be derived from each (yield x going price of peppers the week they were harvested).