Are You Selling Transplants This Year? Do You Know the Rules?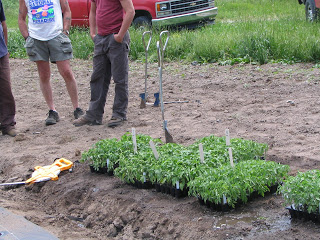 Tomato transplants we grew for heirloom tomato trials
This past week I've talked with several local farmers who plan to sell vegetable transplants at tailgate markets, to fellow farmers, and to stores. This is a great way to make many unusual varieties available to local gardeners and farmers. But are you aware that there are state nursery rules that might apply to you? You may need to obtain a nursery certificate and have your plants inspected by the NC Department of Agriculture and Consumer Services (NCDA&CS). If you think this might apply to you, please read on.
These rules are for all annual transplants. This includes vegetables, flowers, and herbs that don't overwinter.
If you grow transplants and sell them in North Carolina for home garden or any other non-commercial use, you are exempt from the inspection and certification requirements.
If you sell transplants for commercial use in NC, that means a farmer or anyone else in NC who intends to resell the transplants or the fruit, flowers, etc. produced from them, you must be inspected and you will probably need to be certified as a nursery. If you are selling to a local farmer within a 30 mile radius of where you produced the transplants and he/she has personal knowledge of the conditions under which they were grown, you are exempt from these rules.
If you intend to ship the transplants out of the state, you need to check the requirements of the importing state to determine if a certificate of inspection is required.
If you determine that your plants need to be inspected, you will probably need to get a nursery certificate, too. You will be certified as a REGISTERED nursery (less than one acre in size and does not sell outside the state) or as a CERTIFIED nursery (one or more acres in size or sells outside the state). It costs $20 per year to be a registered nursery and $100 or more per year to be a certified nursery.
The nursery rules are extensive and somewhat confusing and I'm not going to try to spell them all out for you here. If you think you might need to be inspected, please call the plant protection specialist for your area.
Here is the nursery regulatory services page:
And here is the page about vegetable transplants:
So what happens if you don't follow these rules and an NCDA&CS inspector finds out?
A stop-sale will be issued and your plants can be confiscated and destroyed.
Why do these rules exist?
These rules were established to prevent the spread of diseases and insects on transplants and to help ensure that commercial farmers purchase healthy plants of the varieties they intended to purchase.