Advanced Organic Horticulture Training for Extension Agents Was a Success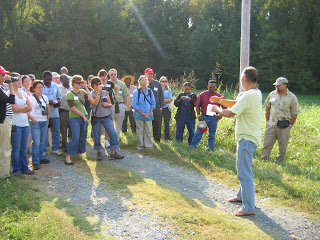 Ray Christopher describing his farm to extension agents from four states
On September 5th, I told you about the Advanced Organic Training session we had planned for extension agents from NC, SC, AR, and AL this week (see below). It's over now, and I think we would all agree, it was a tremendous success. First of all, I have to say that the UNC Rizzo Center in Chapel Hill, NC was an incredible place to hold the three day training session. We had a very difficult time trying to find an appropriate venue for our training. We needed a place where we could all stay, eat, and learn together. We looked at various camps, hotels, and college settings and they either weren't available when we needed them or we couldn't afford them. The Rizzo Center is upscale, and we felt pampered, but most importantly, it met all of our needs. The meeting room was comfortable and equipped with all the electronic technology we needed to teach and demonstrate using Powerpoint, videos, and the Internet. The food was outstanding and much of it was sourced from local organic farms; some we visited on our tour. There are small meeting areas scattered throughout that accommodated our seven teams that had to meet several times to work on their projects. It was perfect.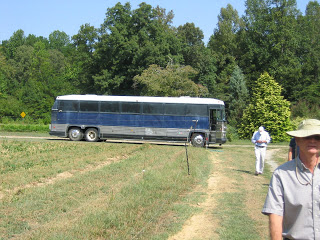 The biodiesel bus that transported us in comfort all day
Our tour on Wednesday was more than we had hoped for. The weather was sunny and warm, the biodiesel bus was comfortable, and the farmers openly shared their successes, challenges, and hopes for the future. NC extension agent, Sue Colucci, provided a description of that tour on her blog
http://wncveggies.blogspot.com/
.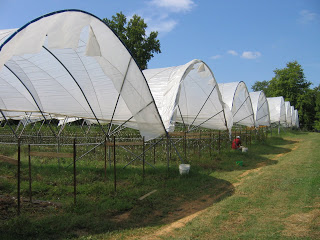 Haygrove high tunnels at Peregrine Farm
After several educational sessions this morning, we wound up the training with reports from the seven teams. We had a fictitious farm scenario with seven problems that an extension agent might be asked to solve. Each team was assigned one of the problems and had to work together to develop an answer. The reports were creative, educational, and very entertaining. I was impressed with how the everyone worked together and used what they learned over the past few days to formulate their answers.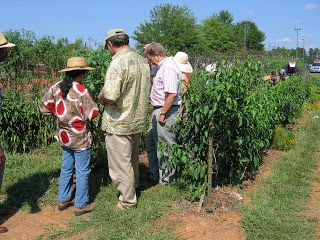 Attendees discussing beneficial insects at the Student Farm at the CCCC campus in Pittsboro
At the end, the agents reported that they really liked the format of the training and that the farm scenario and assigned problems made for a good teaching tool. They also liked having agents from different states all together to share experiences and knowledge, and they say we need to do this again in another 18 months or so. Now the project leaders have to finish the development of a series of modules to be posted on a website to use as training tools and resources for all extension agents in the South. This training was funded by a grant from the Southern SARE program.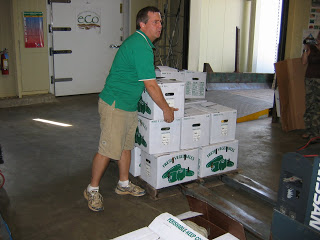 Last tour stop was to ECO (Eastern Carolina Organics) where Todd was preparing to store winter squash