Heirloom Tomatoes Galore at Waynesville Research Station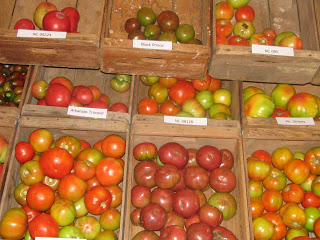 Boxes of tomatoes from heirloom tomato study

On Friday, August 21 over fifty farmers, home gardeners, extension personnel, and other folks working in agriculture turned out for the annual workshop highlighting tomatoes at the Mountain Research Station in Waynesville. Although rain was in the forecast, that morning the sun was shining and a light breeze blowing; perfect weather for observing the studies. Jeanine Davis, horticulturist, and Dilip Panthee, tomato breeder, first described their organic heirloom and heirloom-type hybrid study. Small plots with eleven heirloom tomatoes and nine heirloom-type hybrids were marked with big signs so visitors could see the differences in growth habits, fruit set, and disease symptoms. Dilip spoke about late blight and the devastating effects it is having on tomato production throughout the eastern United States. He picked leaves from late blight infected plants and showed the audience what it looked like at different stages so they could identify it themselves in their own gardens and fields. There were big differences in the amount of late blight between the varieties and Jeanine promised that information on how each variety fared would be published on her website,
https://newcropsorganics.ces.ncsu.edu/organics/
, at the end of the season. Compared to what many people have in their gardens, the plants in the study looked good. So there was lots of discussion about how the plants were protected. Jeanine explained that they were using a number of different products this year, all approved for organic production, including Sporatec, Serenade, Neem oil, copper, BioLink, and Saf-T-Side.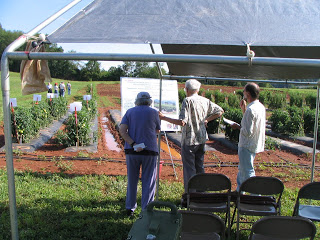 Studying the field plots and posters describing the research

The crowd then moved over to a study where Chargrow, a microbially active biochar product, is being tested under different fertility regimes. Jon Nilsson, a company representative, explained what biochar is and how it is made, and why they created Chargrow, an enhanced biochar product. Chargrow is used in the production of the tomato transplants, and big differences were observed in transplant size when the field was set. It was a little too soon to tell if there would be yield differences or not, because harvests had just begun. But the 'Mountain Fresh' plants were weighed down with an abundance of large green fruit. Final results will be published at the end of the season.
Jeanine then took a moment to explain how the state financial situation impacted agricultural research and how partnerships with industry and grants allow the research to continue. These two studies were supported by industry, Brandt Consolidated (
http://www.brandtconsolidated.com/
) and a member of the Carbon Char Group (
http://www.carbonchar.com/
).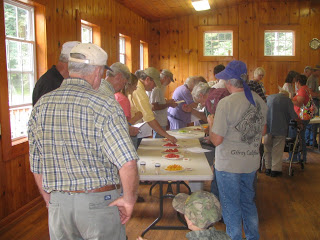 Attendees participating in the tomato taste test

After viewing the field plots, the crowd moved indoors where they participated in a tomato taste test, featuring most of the varieties they had observed in the field. Then they had the opportunity to view boxes of the harvested fruit and match up their favorites in the taste test (where they were only marked with numbers) with the variety name and whole fruit. Chris Sawyer and Missy Huger of Jake's Farm set up a table outside to conduct their own informal taste test and introduce folks to the wide array of varieties that they produce on their farm (
https://www.facebook.com/Jakes-Farm-200575416621485/
). Then it was time for lunch which consisted of "make your own tomato sandwiches" with slices of ripe tomatoes from the study, bread, and mayonnaise. The meal was rounded out with chips, cookies, and lots of tea.
Enjoying a fresh tomato sandwich lunch

The representatives from Ingles did not show up, which was a disappointment to several farmers who came to meet with them. But fortunately, Peter Marks from ASAP (Appalachian Sustainable Agriculture Project,
http://asapconnections.org/
) stepped up and gave a short presentation on some of the most promising market opportunities for local farmers, including wholesale markets such as Ingles. He also told the many home gardeners present where they could buy local produce, explained what CSAs are (Community Supported Agriculture,
http://content.ces.ncsu.edu/community-supported-agriculture-in-north-carolina/
), and explained why it is so hard for local farmers to get their produce into big supermarkets. Doug Sutton, the new manager of the WNC Farmers Market (
http://www.ncagr.gov/markets/facilities/markets/asheville/findmkt.htm
) talked about the many changes he is bringing to the market, including opening new venues for organic and local farmers to sell their products.
Jeanine Davis ended the workshop with information about the new organic research unit that is being planned for the research station. That announcement was met with enthusiastic support.
All in all, it was a successful event. The research station looked beautiful, the tomatoes tasted great, and everyone seemed to enjoy learning about the research that is done there and where they can buy locally grown food. If you missed this year's workshop, watch for notices in early August next year!