The Gardener's Dirt July 2013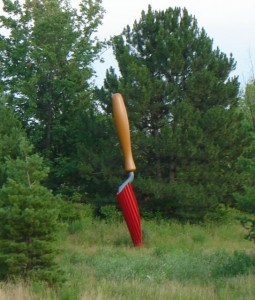 Information you can really dig into
This newsletter offers timely information for your outdoor living spaces. Addressing the most common questions ranging from container gardening, tree pruning, wildlife management, to fire ant control, insect identification and lawn establishment.
Click here for a printable version of this newsletter.
Shawn Banks
Extension Agent
Agriculture—Consumer Horticulture
______________________________________________________________________________________
FEATURE ARTICLE
Community Garden
By: Beth Raines
A community garden is any piece of shared green space that is designed, built, and gardened collectively by a group of community members. It is for the use and enjoyment of the entire community. The gardens may function as a way to raise food for the community and/or to support a farmers' market. They may also be more decorative in design, and simply provide a community space to provide beauty and attract visitors. They can be both, as well as educational and rehabilitative.
The benefits of community gardens are numerous, including: connecting with others, educating, sharing and saving resources, learning self-reliance, improving neighborhood appearance, and improving participants' health by increasing access to healthier food. This is especially good in low-income areas in which individuals may not have easy access to a supermarket, where healthy and affordable produce can be purchased – often described as living in a "food desert".
What kind of people start and maintain a community garden? Some possible community groups are: PTA members, housing tract neighbors, scout troops, schools, and church members, to name just a few. Once a group forms, where can a community garden be located? Groups can consider neighborhood church grounds, private properties, vacant lots, parks, schools, hospitals, municipal spaces, and cooperative extension locations as possible sites. Some especially successful urban community gardens have used vacant lots in abandoned downtown neighborhoods. One such example is Growing Power that started in Milwaukee, Wisconsin as the brainchild of Will Allen, Chief Executive Officer. He believes that "if people can grow safe, healthy, affordable food, this is transformative on every level in a community." From meager beginnings, Growing Power has grown in 20 years from a plot of land, and a group of community gardeners to a thriving food production facility that also participates in community education and outreach. On a more local level, groups like Seeds and Bountiful Backyards in Durham and Raleigh City Farm in Raleigh are examples of successful community gardens that have impacted both communities in a positive way, providing much needed access to healthy food by urban populations who might otherwise not have these foods readily available.
If you are interested in starting a community garden, and wondering where to begin, you can start by visiting a nearby community garden to get ideas. Besides the few mentioned above, there are locators on various websites that will lead you to gardens in your area. Next, you need to find interested community members, and decide what kind of garden you will cultivate. There are several types of gardens to consider, including: Allotment, Cooperative, Youth, Market, and Therapeutic. Allotment Gardens are subdivided into individual or family-sized plots or allotments, and the food grown is divided up amongst participants. A mere quarter of an acre could provide 35 individuals or families access to garden space. Cooperative Gardens are more focused on the group as a team, with one large garden operated as a coordinated group effort of all the members. The food may be divided up equally, donated to a local food pantry, or sold.
An example of a Youth Garden is one established as part of a school curriculum, where children learn about growing food by planting gardens at their school. These gardens are outdoor learning labs. In them, students are a scientist, participating in hands-on research, and later participating in hands-on consumption of the produce. This kind of garden is a great place for the students to learn responsibility, patience, pride, and self-confidence, in addition to what they learn about gardening.
In Market Gardens, where the produce is grown to sell, gardeners learn business principles and business skills. All of the types of gardens previously mentioned can also incorporate the Market Garden approach into their plan.
The list of garden types would not be complete without Therapeutic Gardens that focus on garden therapy, using plants to improve the psychological and physical wellbeing of both the gardeners and visitors. Therapeutic Gardens, often located at hospitals or nursing homes, may be designed for active gardening programs or as a quiet space for reflection.
There can be stumbling blocks with establishing and maintaining a community garden. As with any gardening project, you must deal with soil quality, pests, access to water, and a myriad of other gardening issues. In addition, liability insurance for the site may be a requirement. Other obstacles may include vandalism, disagreements between community members, bad weather problems, and crop failure. But the benefits to your community should far outweigh any potential risks.
After deciding what type of community garden you want to grow, you can then locate a site, check for ordinances and restrictions that could impact your garden, develop a leadership team to plan the scope and purpose of the garden, establish a budget, develop fund-raising strategies, and then dig in!
Works Cited:
http://nccommunitygarden.ncsu.edu/
http://www.communitygarden.org
____________________________________________________________________________________________
FEATURE PLANT

Lemon Balm
Melissa officinalis
By Tina Stricklen
Lemon balm is a member of the Lamiaceae or mint family and originates from Southern Europe. It is cultivated all over the world and is hardy in zones 4 through 9. This heavily scented lemon herb prefers full sun but will take partial shade with average soil conditions. Since it's in the mint family one should take precautions to prevent it from marching across your garden. Initially, I followed the textbook rule of planting the herb, pot and all, in the ground to curtail its spread. Unfortunately, I later realized that the small blooms drop their seeds, germinate, and colonize an area. (See inset – this used to be a garden path). I learned the hard way that the best way to control lemon balm is to cut the flower stalks right after they finish blooming. Although the blooms are small, they are wildly popular with honeybees. In fact, its botanical name, Melissa is Greek for honeybee. Other names include common balm, heart's delight, sweet balm, and cure-all.
Like one of its common names suggest, this is a multi-purpose herb that can be utilized in many aspects of everyday life. The chart below details some of the attributes of this versatile herb.
Bee Balm is the bomb!

Culinary

To flavor sauces, stews, custards and teas

Medicinal

To treat a myriad of ailments including digestive issues, anxiety, and depression*

Garden

To attract pollinators

Distilled

The cultivar 'Quedlinburger Niederliegende' has highest oil content and goes into vermouth, absinthe, and herbal liqueurs

Other

Potpourris, bug repellent, and strewing (to scatter over floor to freshen the room)

*Before trying any herbal treatment, please consult a health care professional
If you run into an issue with self-seeding, the plants are easily pulled since they are fairly shallow-rooted. Should you have some extras, you can always give them to your garden friends because this is a must-have herb in any garden.
Sources:
http://www.herbsociety.org/factsheets/Lemon%20Balm%20Guide.pdf
Atha, Anthony, 2001, Collins and Brown Limited London House, The Ultimate Herb Book, The definitive guide to growing and using over 200 herbs, pgs.223-224.
Stewart, Amy, 2013, Algonquin Books of Chapel Hill, The Drunken Botanist, The Plants that Create The World's Great Drinks, page 174.
________________________________________________________________________________
UPCOMING EVENTS

Canning Workshop – Meat & Poultry
Saturday, July 20, 2013 from 9am -1pm
The canning workshop will be held at the Johnston County Cooperative Extension office at 2736 NC 210 Hwy, Smithfield, NC. Come and learn how to can Meat and Poultry. Pressure canning instruction: Registration Fee is $20. The deadline to register is Friday, July 12th. To register, call 919-989-5380 and ask for Nikki.
Extension Master Gardener Volunteers will at Clayton Farm and Community Market in Clayton on Saturday, July 20th from 9am to 1pm to answer questions and help diagnose pest problems.
For accommodations for persons with disabilities, contact Bryant Spivey at 919-989-5380 no later than five business days before the event.
Worm Composting – Saturday, July 13, 2013 – 10:00 am – 12:00 pm  Registration Fee:  $25 Participants learn how worms recycle food scraps into valuable soil. The family activity creates small worm composting bins to take home. Register by calling JCC @ 919-209-2522
.
Garbage Gardening – Saturday, July 20, 2013 10:00am – 12:00pm   Registration Fee: $15 Children ages 5-12 try vegetables from the vegetable beds and learn how the 'leftovers' from the vegetable can be turned into wonderful houseplants.; Register by calling JCC @ 919-209-2522
_________________________________________________________________________________
YARD VILLAIN
June Beetles
Cotinis nitida
By Karen Damari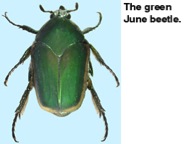 Green June beetle, Junebug, Green fruit beetle, Fig beetle… this visitor to your garden has many names. A member of the scarab beetle family, Junebugs are sometimes mistaken for the Japanese beetle [Popillia japonica]. It is easy, however, to tell the difference. Junebugs are much larger (1½" vs. ½" long), they are a dull green and tan on top vs. the brilliant iridescent copper elytra (outer wings) of the Japanese beetle, and they make a loud buzzing noise similar to a carpenter bee.
They earn one of their nicknames, fig beetle, for their delight in feeding on figs, and another of their nicknames, Green fruit beetle, for their fondness for feeding on peaches, nectarines, apples and other fruits, particularly well-ripened fruits (although I've found in my yard that they'll go for figs first, covering the fruit as a dozen or more feed on a single fig). For this reason, as well as their damage to lawns or turfgrasses, they are considered pests. However, aside from occasionally banging into you as they fly about, they're not harmful to humans.
Females lay 60 to 75 eggs underground during a 2-week period late in the summer. The large, white larval grubs overwinter in the ground, and emerge in June after 18 days of pupation (thus their most common nickname of Junebug).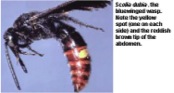 Adults mostly fall prey to birds during the day (chickens love them), frogs and toads at night, while the larvae in the ground are vulnerable to moles, carnivorous nematodes, and especially Scolia dubia, a predatory wasp that digs into the ground and lays its eggs on Junebug grubs; the wasp larvae then feed on and eventually kill the Junebug grub. I have watched dozens of these wasps hovering over an area, listening for grubs, and then landing to dig and lay their eggs. Traps containing rotting fruit that allow the Junebugs to enter but not leave are effective, but must be cleaned frequently and replenished with fresh rotting fruit. Pheromone traps are not recommended as they can potentially lure more Junebugs into your yard than would normally inhabit the area. The use of systemic or foliar sprays to control Junebugs is also not recommended because of their propensity to alight, feed and stay on edible, ripe fruit; however, if they are feeding on fruit you have no intention of eating yourself, then biweekly foliar sprays can be very effective in killing adult Junebugs.
All photos courtesy of NCSU Dept. of Entomology
______________________________________________________________________________
WHAT'S IN SEASON
Jersusalem Artichokes
Helianthus tuberosus L. 'Sunchoke'
By Tina Stricklen
What looks like a sunflower and has edible, knob-like roots or tubers that taste nutty like a water chestnut? If you said Jerusalem artichoke you win the prize. I polled a handful of people in my office and they all came up empty. It's no wonder the average consumer wouldn't know what I was describing since this plant is not endemic to Jerusalem nor is it an artichoke.
Jerusalem artichokes are a vastly interesting perennial with a long history that dates back to the Native American Indians of the central plains. After settlers took the plant back to Europe, it took on many different names. Depending on where you were it may be called sun roots, topinambours, or even girasole. One story behind the common name relates to a corruption of the Italian word for sunflower. From girasole came the word Jerusalem. Some say that this humble root was called artichoke because the French explorer Samuel de Champlain, upon first tasting it in Cape Code circa 1605, stated they tasted like artichokes.
After a protracted absence in the states, the sun choke is gaining a following. This is due in large part to the renewed interest in heirloom foods. Additionally, scientists recognize an opportunity with the plant as a feedstock for producing ethanol as an alternative to corn.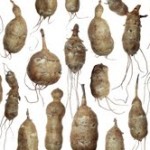 If you decide to grow them, the best time to plant in our area is early spring much like the timing of potato planting. You can plant them later but your yield will be exponentially reduced. Also, like a potato, you can plant the tuber whole or cut smaller pieces making sure there are two or three buds. Plant 3 to 5 inches deep with rows spaced 36 to 42 inches wide. Site the bed in a sunny location behind shorter plants since the stalks reach up to 10 feet. Harvest them after frost since the cold air will make them taste sweeter.
Stampede as well as White Fusea and Red Fuseau are varieties that do well in our area. Be warned that this perennial is a strong grower. Any tubers left behind during the harvest process will sprout the following spring. Take care to destroy any carry-over or volunteer plants before they set their roots in the late summer.
The following recipe utilizes both plants profiled in this month's issue:
.
JERUSALEM ARTICHOKES WITH PEAS AND LEMON BALM
This recipe is excerpted from Herbs in the Kitchen by Carolyn Dille and Susan Belsinger, Interweave Press, 1992.
Serves 4 to 6
½ pound Jerusalem artichokes
2 cups cold water
1 tablespoon lemon juice
1 pound unshelled peas
1 tablespoon unsalted butter
2 medium shallots, minced
Salt and freshly ground pepper
2 tablespoons minced lemon balm
Clean and peel the Jerusalem artichokes and cut them into ¼-inch julienne. Soak the artichokes in the cold water with the lemon juice for about 10 minutes.
Shell the peas. Drain the artichokes and pat them dry. Sauté them in the butter over medium heat for two minutes. Add the peas and minced shallots, cover, and cook for about 4 minutes.
Season with salt and pepper and toss with the minced lemon balm: Serve immediately.
Sources:
https://www.ces.ncsu.edu/hil/hil-1-a.html
http://www.hort.purdue.edu/newcrop/afcm/jerusart.html
http://www.ethanolproducer.com/articles/5415/researchers-study-jerusalem-artichoke-for-ethanol/
________________________________________________________________________________
GARDENING TECHNOLOGY
Apple App of the Month
By Karen Damari
Hello! From time to time I like to introduce you to some interesting gardening applications available for the iPad. These are all apps that I have used and some of my own personal thoughts regarding them. They are all available in the Apple iPad App Store. The prices range from free to $5.00, and may work on an iPhone, iPod or MacBook, but I'll only talk about my experiences on the iPad. This is not an endorsement of the iPad over other tablets… it just happens to be the one I own.
Let me introduce you to NCSU LAWN CARE. A free App for the iPad and iPhone, it is easy to load and reliable (in other words, it hasn't crashed on me yet). When you open the App, the main menu offers many subjects:  Alerts (the latest dates and videos), All News (all the articles that are under the other subjects), Grasses (drought tolerant, heat tolerant, wear tolerant, grasses for shade), Maintenance (maintenance calendars for different types of grasses, mowing heights), Pest Problems (this subject gives you a link that opens up TurfFiles, an NCSU turfgrass site), Irrigation, Turf Tips, Turf FAQs (Frequently Asked Questions), More (which contains links to 9 other grass-related sites).
My Thoughts…
If you like keeping a beautiful green lawn, this is the App for you. It has a load of information in it, as well as taking you, via links, to many other fascinating lawn-related places. And because it was written by NCSU staff, the data directly relates to our area. How cool is that! NCSU LAWN CARE is easy to navigate and has really cute, easy to see icons. One thing though – make sure you click on the "2x" button in the lower right-hand corner of your iPad display; the Menu is really tiny and difficult to read at "1x".
On a negative note, I have an iPad 1 and the latest NCSU LAWN CARE update (May 23, 2013) won't work unless you have iOS 6.1 running… and iPad 1 and 2 won't run iOS 6.1. So, if you have an older iPad like I do, you may not be able to load this App. But if you are interested in NCSU LAWN CARE, go to the App Store and try to "BUY" it. If your iPad's iOS won't run the App, it won't try loading it. Enjoy!
_________________________________________________________________________________
JULY GARDEN TASKS
GENERAL IDEAS
-Water deeply but infrequently, this will encourage deep rooting of plants for better drought resistance.
-Control fungal diseases which flourish in hot and humid weather by keeping irrigation water off foliage. The best time to water is early morning. This allows the sun to dry water from foliage. Watering in early evening creates damp foliage all night, which encouraging the development of fungal diseases.
-Help reduce the mosquito population by emptying any containers with standing water. Mosquito larva can grow in shallow water, like plant saucers that do not dry completely.
LAWN CARE
http://www.turffiles.ncsu.edu/
-When should you water your lawn? When the grass blades  are just starting to curl and your footprints remain on the lawn when you walk on it. Watering too often encourages a lawn with a shallow root system that cannot handle drought well. Apply an inch of water, in the early morning. Set your timer for 4 am if you can.
-Grasses vary in their needs. Check out the Lawn Maintenance Calendar for your grass and learn how best to care for it, month by month.
-Keep fescue mowed at a height of 3 – 3 1/2 inches to help it survive hot, dry periods. It is a cool season grass that slows down in the summer. If it is cut it too short the tender roots will be exposed to extreme heat which will certainly damage, if not kill them. It is also difficult for fescue to recover from cutting too short as it is not actively growing at this time.
Repair Warm-Season Lawns: Bermuda, Zoysia, and centipede are growing strong by now, making it easy to see spots that are weak or weedy. Pull weeds and patch bare spots if you haven't already.
-Established fescue lawns naturally go semi-dormant in the heat of July. Established fescue can survive up to three weeks without water, but will need a drink if it doesn't rain by then! Water only when grass shows sign of wilt (footprints show when grass is walked on). Fescue planted last fall will need watering every week. See the Fescue Lawn Maintenance Calendar (link above).
TREES, SHRUBS & ORNAMENTALS
-When you visit your roses, clip off leaves that show early evidence of blackspot – a common fungal disease that causes black spots on leaves. Put the spotted leaves in the garbage (not in the compost pile.)
-When gathering cut flowers to bring indoors, cut stems early in the day. Bring them indoors and recut the ends while they are submerged in a sink of water.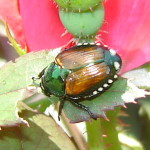 Don't use Japanese beetle traps. The pheromones in the traps often attract beetles that would not otherwise visit the area. To control a particularly pesky group of beetles, go hunting for them in early morning and shake them into a bowl of soapy water to get rid of them.
-Keep potted plants watered! Plants in pots outside may need daily watering in the heat of summer.
-Pinch out the tips of garden mums to encourage lower, compact plants with many flowers.
-Start stem cuttings of geraniums and leaf cuttings of succulents to be potted for use as house plants this winter.
-Propagate shrubs by rooting cuttings. Semi-hardwood cuttings of Azalea, Camellia, and Holly can be taken this month. The wood should be hardened enough that the stem breaks when bent.
-Prune spent crape myrtle blossoms to prolong the flowering period.
-Sooty Mold on the crape myrtles will make the leaves appear dark and sooty or almost uniformly charcoal gray. Sooty mold grows on honeydew (the sticky leftovers) from aphids. Control the aphids, and the mold will wash off.

-Powdery Mildew makes leaves appear gray and powdery. It's a common problem which disfigures the foliage, but doesn't kill the tree.
-Hand-pick bagworms off evergreens. Pesticides are not effective once the caterpillars are safe in their bags.
-Remove vigorous upright sprouts growing from tree roots ("suckers"), or from the upper surfaces of tree branches ("water sprouts"). Pruning the sprouts out directs the tree's energy into desirable growth.
-Weed when it's easy. Weeds are easier to pull when the soil is moist, so wait until after a soaking rain or irrigate the area first. The roots of desirable plants can be injured by pulling large weeds nearby so pull those weeds in late afternoon or on cloudy days, and water the area afterward to help injured plants recover.
-Start seeds for cool-weather annuals indoors in July/August for fall planting. Try foxglove, pansy, alyssum, snapdragons, ornamental cabbage (kale), and primroses. Pansy seeds germinate well when stored in the refrigerator (not freezer) for 10-14 days before planting.
VEGETABLES & FRUITS
-Pinch out the tips of blackberry shoots when they reach about 4 feet tall. This helps form a tidier hedgerow for easy picking.
-Soon after tomatoes begin to set fruit, give them a boost of fertilizer to keep them vigorous and productive. Most of the new varieties are heavy producers if provided with good nutrition and adequate soil moisture.
LANDSCAPE IDEAS
-Deckscape: Play with colors, textures, and the placement of furniture on your deck or patio. Use container-grown plants, windsocks and sculptures to change or fine-tune your color scheme and overall feel.
-Think strategy. Now that deciduous trees and shrubs are in leaf, survey your landscape critically. Do you have too much? too little? are plants too low where screening is needed? So tall a view is blocked? Take photographs and make plans to add or move shrubs this fall. Don't do it now.
WILDLIFE
-Put out a bird-bath. Keep it filled with fresh water. Change it once a week to minimize mosquitoes. Birds will pay you back by eating lots of insects!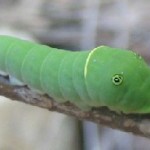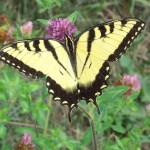 -Think twice about squashing caterpillars; many turn into butterflies. This is just one example of what swallowtail caterpillars look like. This is a swallowtail butterfly(right). Swallowtail caterpillars (left) love parsley, so set out a few extra plants to share with them. A pan of moistened pebbles or sand will attract butterflies.
*** If you would like to receive this newsletter monthly via email, send an email to shawn_banks@ncsu.edu asking to be added to The Gardener's Dirt email list.
________________________________________________________________________________
If you have gardening questions you would like to have answered contact the Extension Master Gardener Volunteers by phone at (919) 989-5380 or by e-mail at jcemastergardener@gmail.com.
If you would like to subscribe to this monthly newsletter send an e-mail to shawn_banks@ncsu.edu and ask to be added to the electronic newsletter list.
________________________________________________________________________________
Was the information on this page helpful?