Our Truck Is Wrecked! Looking for a Great Deal, Please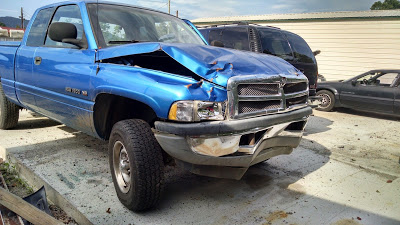 This is my work pick-up truck. Three of my employees were returning from the Mountain Research Station in Waynesville when they ran into a heavy rain storm and, well, had an incident. Fortunately, they are okay and I carried collision/comprehensive insurance on this vehicle. The bad part is, the insurance company declared this a total loss and I am only getting $6,600 for it. This was our newest vehicle (2001 Dodge Ram) and the only 4WD we had. Our other two vehicles are a 1998 Ford Windstar mini-van and a 1997 Ford F-150 2-WD pick-up. Three days after the wreck, the transmission started acting up on the mini-van. It is in the shop now, but since it is only worth about $800, it doesn't make sense to sink much money into it. So we suddenly went from three vehicles to one.
We are in a tough spot. There are seven of us conducting research in Mills River, in Waynesville, which is 40 miles away from Mills River, and on six farms. We also need to visit truffle orchards and hop yards all over the state. We really need to have three work vehicles. None of us have personal vehicles that are appropriate; we need to drive through fields, mud, and on steep dirt and gravel roads. We also transport equipment, tools, boxes of produce, and flats of plants. You know, farming stuff.
The university no longer provides vehicles for their faculty, so it is up to me to buy another truck. I fund my program almost exclusively with grants. but I cannot buy a vehicle on a state or federal grant. Your donations help me pay for insurance, inspections, maintenance, repairs, and tires.
So now I am coming to you for support, suggestions, leads, and perhaps a really great deal for us to obtain a good, reliable truck very quickly for $6,600. Since NC State University is a non-profit, donating all or part of the value of the truck would be tax deductible. If someone wanted to donate a vehicle with wording on the side that said "Donated by…" we are all for it. I hate to come begging, but we are in a bind.
Donations can also be made directly to my Foundation account at go.ncsu.edu/alternativecropsorganics.
Thank you. Jeanine, Margaret, Luping, Leo, Lijing, Reuben, and Kelly
Was the information on this page helpful?
This page can also be accessed from:
go.ncsu.edu/readext?466536