WNC Farmlink Coordinator Position in Asheville, NC!
Find this article at:
go.ncsu.edu/readext?466547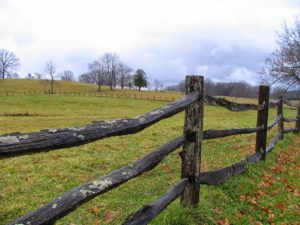 Are you the right person to lead this exciting program matching farmers with farmland? So many people in western NC want to farm but don't have access to land. At the same time, there is land for sale or lease that would be perfect for farming. The person in this position must be very personable and sensitive to the many issues on both sides. This person will populate and maintain the database of land owners and land seekers and help make appropriate matches. Educating people about the program and the ins and outs of leasing, buying, and selling land is also part of the job as well as maintaining the WNC Farmlink website . This program was initiated in 2013; all the groundwork has been laid. The previous coordinator will be available to help the new person get started and actually be working closely with him/her.
This is a program within a large federal grant funded project called Agriventures. The WNC Farmlink program is led by Dr. Jeanine Davis at NC State University, so it is a NC State University position. But the position is housed in the Southern Appalachian Highlands Conservancy office in downtown Asheville and under the direct supervision of someone there. The position reports to an advisory committee of project partners from NC State University, N.C. Cooperative Extension, the Southern Appalachian Highlands Conservancy, Organic Growers School, Mountain Valleys Resource Conservation and Development, one or more regional Soil and Water Conservation Districts, and the Appalachian Sustainable Agricultural Project
This is a 26 hour per week position for approximately 17 months contingent upon available funding and satisfactory performance. A main objective of this project is to make this a sustainable program that can continue after the grant has ended. Compensation is commensurate with experience up to $26,000 per year. Paid sick days, annual leave days, and holidays provided, but no health insurance or retirement benefits.
Qualifications:
Strong interpersonal and facilitation skills; a large amount of creativity; self reliance; ability to take initiative; ability to effectively manage multiple tasks; ability to work independently and in project teams; a sense of humor; positive attitude and energy; team spirit; and good communication skills. Minimum of one year of experience coordinating workshops, community meetings, and other such events. Minimum of an undergraduate degree is required. Strong computer skills and proficiency with Word, PowerPoint, and Excel required. Familiarity with local and regional food systems and an existing network of relationships within the agricultural community are preferred. Must be able to work well with all types of agricultural producers and staff of agricultural support organizations.
Several years of experience with land conservation and agricultural support organizations is a plus, as well as working with a coalition.
How to Apply:
To apply for this position, you must go through the North Carolina State University Job Application website. This is an on-line process where you create an account, fill out an application, and upload your CV (resume), cover letter, and contact information for three references.
Here is the direct link to the position on the NC State Jobs site.
This position will remain open until we find the appropriate individual to fill it. Please do not call with questions or to plead your case. We expect a large number of applicants and since we can't respond to all inquiries, we want to treat everyone fairly. Thanks for understanding.