Health Concerns for Hop Growers and Processors-What You Need to Know
Find this article at:
go.ncsu.edu/readext?466550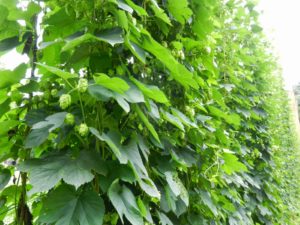 There is so much excitement around growing hops in the eastern US. We all know they are a bit of a challenge to grow in this region, but farmers are doing a fantastic job. I have recently learned about a situation, however, that none of us are talking about. That is the health risks of hop dust. So, my colleagues at Michigan State University have arranged a free webinar through which we can all learn how to protect our lungs while growing, harvesting, drying, and processing hops. Here are the details:
Hop harvest and processing safety webinar
Your Lungs, Your Life: Respiratory disease in hop growing and processing
Tuesday, January 13, 2015
1 p.m., Eastern Standard Time (10 a.m. PST, 11 a.m. MST, 12 p.m. CST)
Hosts: Erin Lizotte and Rob Sirrine, Michigan State University Extension
Join us for this one-hour webinar with Carolyn Whitaker and Dr. Dave Bonauto from the Washington State Department of Labor and Industries Safety & Health Assessment & Research for Prevention (SHARP) Program. In this webinar you will learn how to keep your lungs healthy while growing and processing hops. We will cover what to watch for, when to see a doctor, hop jobs associated with respiratory disease, and what you can do to protect yourself and employees.
The SHARP Program is an occupational health research group interested in preventing workplace injuries and disease. Carolyn Reeb-Whitaker (MS, CIH) has worked at SHARP as a certified industrial hygienist for the past 13 years. She administers Washington's work-related asthma surveillance program and holds a Master's degree from the University of Washington. David K Bonauto (MD, MPH) is the research director at SHARP, where he has worked as an occupational medicine physician for the past 14 years. He earned his MD degree from Columbia University in 1993. His research interests include occupational surveillance, chemical related illness, injury epidemiology, and work-related musculoskeletal disorders.
No registration is required and the program is free. Simply click the following link five minutes before the webinar is scheduled to begin
https://connect.msu.edu/erinlizotte
. Please sign in as a guest using your first name and state of residence. You will need a computer with internet access, a web browser (e.g. Explorer, Safari) and speakers. Don't worry if you aren't available on January 13th, we will record the webinar and make it available via
hops.msu.edu
.
MSU Extension programs and material are open to all without regard to race, color, national origin, gender, gender identity, religion, age, height, weight, disability, political beliefs, sexual orientation, marital status, family status, or veteran status. Accommodations for persons with disabilities may be requested by calling Erin Lizotte at 231-944-6504, requests will be met when possible.