Organic Broccoli Workshop and Field Day on Sept. 17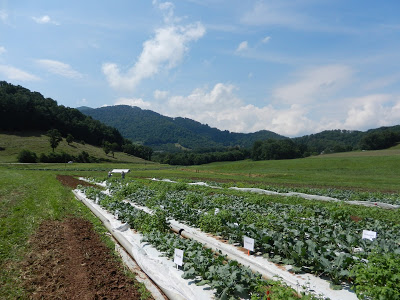 Event: Organic Broccoli Workshop and Field Day
Date:  September 17, 2013
Time:  10:00 a.m. to 4:00 p.m. (bonus listening session runs till 5:00)
Location:   Mountain Research Station, 265 Test Farm Road,  Waynesville, NC 28786-4016. A map with directions can be found at http://www.ncagr.gov/research/mrs.htm
Cost: $15
Are you interested in growing organic broccoli? Designed for the commercial grower, this workshop will also be of interest to the serious home gardener. We will start the morning with an organic broccoli taste test followed by presentations on the results from our participatory organic broccoli project, renowned organic grower, Pat Battle's perspective on growing organic broccoli, and the organic broccoli market situation.
After a catered lunch, we will head out to the field to rate the side shoot production on our organic broccoli trial (this is the participatory part), followed by a visit to the large Eastern Broccoli Project field trials where new breeding lines are being tested. The latter is not an organic trial, but the new varieties should be of interest to everyone. Then we will return to the building for a moderated discussion on issues related to organic broccoli production, such as how to control harlequin bugs! The workshop will end at 4:00 p.m., but Carolina Farm Stewardship Association is hosting a special focus group session afterward to get some feedback from growers on their new organic enterprise budgets (see below).
Registration:
Pre-registration is required and should be done online through the CFSA online store.
First-time registrants in this system simply create a guest username and password by clicking the "New Visitor Registration" link when prompted to login.
You are welcome to show up the day of the event without pre-registration, but we might not have a lunch for you…so pre-registration is highly recommended!
The Organic Broccoli Project is led by Dr. Jeanine Davis with NC State University and funded by the Organic Farming Research Foundation. This workshop is being done in cooperation with Carolina Farm Stewardship Association.
SPECIAL POST TRAINING INVITATION TO FARMERS:
Carolina Farm Stewardship Association is developing enterprise budgets for organic vegetable commodity crops. Crops include 1) Broccoli, 2) Summer Squash, 3) Tomatoes, 4) Cabbage, 5) Watermelon, 6) Irish Potatoes, 7) Sweet Potatoes, 8) Greens, 9) Leaf Lettuce, 10) Cucumbers
If you grow any of these crops and can assist by reviewing drafts of a few budgets, we will be holding a focus group meeting at the end of each workshop in order to get feedback from farmers. Please contact CFSA's Farm Services Director, Karen McSwain, (karen@carolinafarmstewards.org / cell: 828-423-2463) so that she can send you drafts of the budgets you are interested in reviewing prior to the workshop.