Wild Herb Weekend Is Next Month-Register Now (Jeanine's Favorite Conference!!)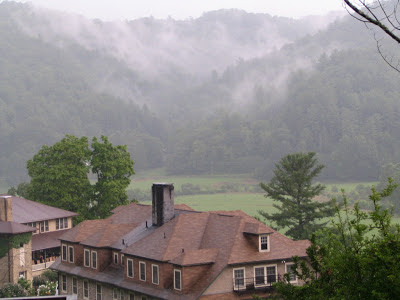 Wild Herb Weekend is just around the corner on July 26-28th, 2013. This is an amazing weekend in the beautiful high mountain location of Valle Crucis, NC. There is something for everyone at this intimate, little conference held at the historic Valle Crucis Conference Center. Whether you grow herbs for a hobby, use herbs for healing, or want to start a commercial herb operation, you will find many interesting sessions and hands-on workshops and plant walks to participate in. This year our keynote speakers will be Phyllis Light and Matthew Wood. The scenery is breathtaking, the lodging is historic (a bit rustic, shared facilities, bring a fan), the food is good, and the company is outstanding. We have so much fun!!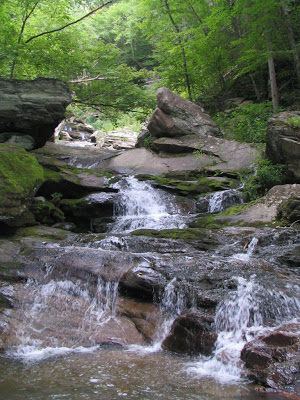 Key Note Speakers:
Matthew Wood has been a practicing herbalist since 1982. helping tens of thousands of clients over the years. In addition to his practice based traditional Western herbalism, he has lectured throughout United States, Canada, Scotland, England, France, and Australia. He is also the author of six acclaimed books on herbal medicine: Seven Herbs, Plants as Teachers, The Book of Herbal Wisdom, The Practice of Traditional Western Herbalism, The Earthwise Herbal, A Complete Guide to Old World Medicinal Plants , The Earthwise Herbal, A Complete Guide to New World Medicinal Plants.
Phyllis Light is a fourth generation herbalist and natural health educator for over 25 years. At the age of 10, her grandmother and father taught her to identify and use local plants from the woodlands of northern Alabama, her home. Her initial training was in the traditional Southern and Appalachian Folk Medicine of the region, though she has continued her studies and acquired a wide range of experience with herbs, clinical herbalism and other healing modalities. She has taught and lectured at herb schools, universities, hospitals, and natural health conferences.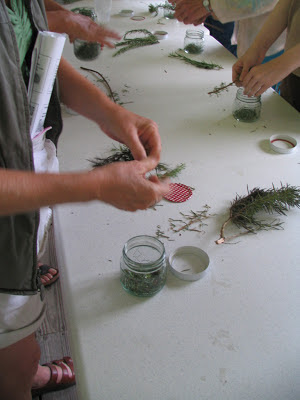 Important Registration Information:
Mail-in registrations must be postmarked by July 1st, 2013.
Online registrations will be accepted until July 19th, 2013.
Walk-in registrations will be accepted on site between 4:30pm – 5:30pm on July 26th, 2013.
Register on-line on the NC Herb Association website . Questions? Please direct all Wild Herb Weekend inquires to info@ncherbassociation.org or call 828.237.1052.
Speakers and Presenters and Full Class Descriptions are included below.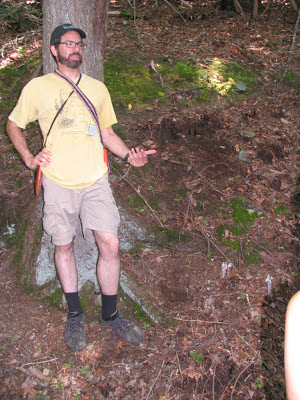 Speakers and Presenters
Jane Abe came to Western North Carolina in 2001 after a 30-year career as a science teacher and school counselor. Always interested in science and healing, she studied herbal medicine and has completed a master's degree in holistic nutrition. She teaches classes in the Asheville area and at Mills Garden Herb Farm in Statesville. Through her teaching, Jane hopes to help others return to traditional healing methods with whole foods and herbs. She is currently on the NCHA board and was editor of the newsletter.
Michele Collins, RH (AHG), MPH has been practicing as a clinical herbalist for more than seven years, using traditional Chinese medicine in combination with Chinese, western, and Ayurvedic herbs, Chinese nutritional therapy, and qi gong. She is currently in private practice at the Naturopathic Health Clinic in Winston Salem, NC and at the Awaken Wellness Clinic in Elkin, NC. As an herbalist, she likes connecting people to the beauty and magic of plants and to the healing rhythms of nature. She has a general practice, with particular experience in the use of tonic herbs and formulas to address chronic depletion and imbalances caused by illness or emotional trauma, psychological/ mental health issues, digestive issues, as well as gynecological issues. Michele is a graduate of Michael and Leslie Tierra's professional herbalist program at the East West School of Herbology, where she holds the designation as a certified herbalist (EWCH) and has a Master of Public Health (MPH) degree in Health Behavior from the UNC School of Public Health. In 2011, she spent six months studying Chinese herbal medicine in an integrated setting in Chengdu, China. . In 2012, she joined the staff of the Academy of Integrated Medicines where she teaches western and Ayurvedic herbalism in their Integrated Herbal Studies Certificate Program.
Dr. Jeanine Davis is an associate professor and extension specialist in the Department of Horticultural Science with NC State University. She is located at the Mountain Horticultural Crops Research and Extension Center in Mills River, right next to the Asheville airport. For over 20 years, her program has been focused on helping farmers increase their profitability by diversifying into new crops and organic agriculture. Medicinal herbs are a specialty of hers and she shares her knowledge on the topic with coauthor, Scott Persons, in the book "Growing and Marketing Ginseng, Goldenseal and Other Woodland Medicinals".  Current research and extension efforts are with organic woodland botanicals, hops, truffles, and heirloom tomatoes. She is also establishing a new organic research program headquartered at the Mountain Research Station in Waynesville, NC. Jeanine is a founding board member of the Organic Growers School and the NC Natural Products Association and serves as an advisor to the NC Herb Association and NC Tomato Growers Association. Jeanine is passionate about what she does and shares her information at numerous conferences and workshops in North Carolina and beyond. She also maintains several websites (ncherb.org, ncorganic.org, and ncspecialtycrops.org), and keeps folks current on her activities and areas of interest through Blogger (ncalternativecropsandorganics.blogspot.com), Facebook (facebook.com/people/Jeanine-Davis/1442912228, and Twitter (twitter.com/JeanineNCSU).
Camille F. Edwards is a master herbalist in keeping tradition within the family. She can trace her family roots all the way back to Nicholas Culpeper, the famous herbalist! While studying herbs it came to light that without spiritual and emotional healing, first and foremost, most illnesses will remain in place. She expanded her education and recently completed her PhD in Philosophy. Upon completion of her doctorate she immediately enrolled in Hypnotherapy school and is now a certified Hypnotherapist and Reiki Master. She is a also business partner of Soulful Sages and works full time as a legal assistant to support her herbal habits. She currently heads up the Chapter section for the North Carolina Herb Association and is once again serving on the Board having once served as Past President of the North Carolina Herb Association.
Jane Fitch is a Certified Holistic Life Coach, Clinical Hypnotherapist, Certified Vision Board Coach, Certified Hormone Consultant, and Certified NLP Therapist. She holds a BBA from Texas A&M University in Marketing and a PhD in Metaphysical Psychology. She worked in a private practice with clients specializing in chronic illness, depression and weight management, and has mentored under Dr. Wayne Dyer, Marianne Williamson, and Deepak Chopra. She combines alternative healing practices with a variety of techniques to create a truly holistic healing experience.
Rachel Frezza is an astrologer, certified flower essence practitioner, clinical herbalist and advanced energy healer practicing in West Asheville, NC. She is passionate about plant spirit medicine and the natural healing ways of incorporating astrology with herbal healing. In these classes she is excited to share her knowledge of Flower essences with you! She has a ferret Shatavari and hopes someday to journey to the Andes and Himalayan Mountains.
Ryan Marie Kelly has always had a fascination with the intrinsic nature of things, and this interest has led her into various pursuits including science, yoga, and all things plant related. She is currently working on an NIH grant funded project with Botanipharm, researching the medicinal qualities of goldenseal and developing research grade material that can be utilized for rigorous scientific endeavors. Her work with Botanipharm is an extension of her belief that the natural products world needs resource material that is reliable and consistent, where the entire process; from the soil, to the growers, to the plant, to the medicine maker, and eventually to the consumer, is treated with respect and diligence. She also enjoys sharing yoga with people and volunteers her time at Asheville Community Yoga. Her yoga style incorporates flow movement with Taoist principles. In addition, she serves on the board of The North Carolina Herb Association.
Marie Knight is a laboratory technician and a science enthusiast. Trained in molecular biology and biochemistry, her 12+ years in the lab includes experience in analytical chemistry, environmental toxicology, and microbiological testing.  Her interest in herbs is linked both to her love of science as well as to her continuous pursuit of good health in the great outdoors. An avid runner and hiker, Marie has gotten to know the mountain botanicals and medicinal weeds she encounters on the trails. When not running or drawing, she is the Quality Assurance Specialist with BioNetwork and works in the lab at A-B Tech near Asheville.
Phyllis D. Light, a fourth generation Herbalist and Healer, has studied and worked with herbs, foods and other healing techniques for over 30 years. Her studies in Traditional Southern Appalachian Folk Medicine began in the deep woods of North Alabama with lessons from her grandmother, whose herbal and healing knowledge had its roots in her Creek/Cherokee heritage. Phyllis' studies continued as an apprentice with the late Tommie Bass, a nationally renowned folk herbalist from Sand Rock, Alabama, as well as other herbal Elders throughout the Appalachians and the Deep South.
Janice Maleyeff is a Holistic Healing Practitioner who interlaces her intuition and the universal healing energies of herbs and essential oils in her Reiki practice, providing you with a total body, mind and spirit experience. She is a certified Angel Blessings Intuitive, a teacher of esoteric philosophy, tarologist, Reiki Master, certified in spiritual aromatherapy, chakra therapy and crystal healing, an herbalist, and artist.  Contact Janice can be reached at 704.910.6109 or at soulfulsages@gmail.com to schedule an appointment or one of her many workshops.
Jeff Rieves has been a gardener his entire life, though in his younger days, often a reluctant one. Jeff brings years of experience to any class he teaches. His time as managing partner of Southernwood Farm gave him the opportunity to spend 20 years with his hands in the soil of Chatham County, NC. And his experience is in the classroom as well. Jeff taught at Central Carolina Community College, instructing aspiring farmers in the mysterious ways of business. As an original instructor of CCCC's Sustainable Farming Program, Jeff helped develop a curriculum that now teaches students from all over the US.
Mechell A. R. Turner BA. M.ED. IBCLC (ret.2006) CCH. She has Bachelor and Master's from Campbell University and owner of Simply Herbal in Peachland, NC. She is a lactation consultant, childbirth educator and clinical herbalist specializing in herbs and alternative remedies for childbirth and breastfeeding. She has published in journals and contributing writer to other breastfeeding books. She currently teaches birth classes privately, and biology for Shanan Classic tutors near Charlotte, NC. Mechell is a Board Member of NCHA and member of the American Herbalists Guild.
CoreyPine Shane, RH (AHG), is Director of the Blue Ridge School of Herbal Medicine and for the past 20 years has helped clients by artfully blending Chinese and Western herbal traditions with a focus on local plants. As a seasoned wildcrafter he has extensive knowledge of local plants as well as medicine making. He has taught at many national conferences, written on herbal medicine, and is a professional member of the American Herbalists Guild. CoreyPine believes that laughter is an essential part of any medicine chest, which is why he is a part of the "Wise Guy" school of healing.
Matthew Wood has been a practicing herbalist since 1982. In a period when many authors and lecturers are merely "arm chair herbalists" who offer theories and opinions based on book learning, and others have turned to the exotic traditions of India or China, he has been an active practitioner of traditional Western herbalism. He has helped tens of thousands of clients over the years, with many difficult health problems. While Matthew believes in the virtue of many other healing modalities, he has always been inspired to learn, preserve, and practice the tradition of herbal medicine descending to us from our European, Anglo-American, and Native American heritage. He is a member of the American Herbalists Guild (registered herbalist) and has earned his Masters of Science degree from the Scottish School of Herbal Medicine (accredited by the University of Wales).
Marc Williams is an ethnobotanist. He has studied the people plant connection intensively while learning to employ botanicals for food, medicine, and beauty. His training includes a Bachelors degree in Environmental Studies concentrating in Sustainable Agriculture from Warren-Wilson College and a Master's degree in Appalachian Studies concentrating in Sustainable Development with a minor in geography and planning from Appalachian State University. He has spent over a decade working at a multitude of restaurants, various farms and travels throughout 23 countries in North/Central American and Europe. Marc has taught hundreds of people about the marvelous world of plants, people and their interfaces. His greatest hope is that this information may help improve our globally challenging ecological situation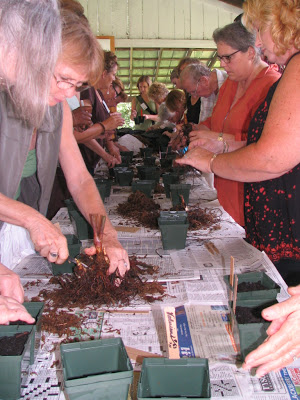 Class Descriptions
Animal Medicines, Plant Medicines (Matthew Wood) This is a deeper extension of the 'doctrine of signatures.' When a plant looks like an animal or is used by an animal it is especially powerful. This is called a 'spirit signature.' We will discuss bear, badger, elk, deer, rabbit, snake, and crow medicines. This teaching helps us to understand the deeper connections between the creatures in Nature and comes to us from Native American medicine.
Beat the Summer Heat with Food, Herbs, and Qi Gong (Michelle Collins) The food we eat affects our body in profound ways and is an important tool for regulating energy levels and maintaining balance between the mind, body, and spirit. This workshop draws on the Chinese Medicine's knowledge of how the cycles of nature are mirrored in our own bodies. You will learn about how to use foods and herbs, as well as some simple sound and movements of qi gong practice to promote health and well-being during the heat of summer.
Echinacea: What an Amazing Plant and So Easy to Grow (Jeanine Davis) It's medicinal and ornamental and should be in everyone's garden. Let's look at all the different kinds and varieties of Echinacea you can grow, learn how to grow it, and talk about the new opportunities to grow it on a large scale here in the Southeast. And we'll make an Echinacea tea for you to take home.
Exotic Invasive, Yet Oh So Good… (Marc Williams) In this class we will take a walk and discuss how one can effectively turn a problem into a resource by harvesting some of our most perniciously exotic invasive plants for a plethora of powerful uses.
Fermenting Fresh Vegetables (Jane Abe with Madge Eggena) Fermentation is an easy and wonderful way to preserve the abundance of summer. Healthful bacteria act on vegetables giving us familiar products such as sauerkraut and pickles. The live cultures in these foods become part of the community of 100 trillion microbes that call us "home," and play a critical role in our overall good health. This class will introduce you to the basics of preparing these delicious treats, and we'll offer many samples to get you inspired!
Garden work session (Jeff Rieves) We will do some clean up and maintenance of the Dick Tippett Herb Garden. Bring your pruners, a trowel, and your favorite story about Dick to the garden. We will have some tools available for heavier work, but if you have the space in the car, bring a shovel or rake with you. See you in the garden!
Gentle Flow Yoga (Ryan Marie Kelly) Treat yourself to a little relaxing action on your afternoon break with yoga! All levels are welcomed and encouraged. We will start off with some deep breathing and gentle movement to grease the joints of the body, and then keep the energy flowing for an easy-breezy, but active, class. No crazy headstands or pretzel configurations, just a little movement and breath work with a nice space for deep relaxation at the end. Please bring a mat or a blanket if you have one but don't stay away if you don't (we will have some extras).
Good Neighbors (Jeff Rieves) Just like people, some plants thrive in the presence of certain other plants, and languish near others. We'll look at a select palette of plants and see which of them deserve a new place in your garden!
Growing Hops for Personal Use or as a Commercial Venture (Jeanine Davis) Everyone is talking about hops, but can we really grow them in this area? Sure we can! Learn how to grow a few hops in pots to brew your own beer, as a lovely trellised plant in your garden for making medicine, or to produce on a scale large enough to sell local craft breweries. And we'll make a small hops craft, too.
Healthy Aging (Phyllis Light) The key to healthy aging is a healthy lifestyle. Join Phyllis as she explores ways to age gracefully, be healthy, and stay connected. We'll discuss changing nutritional needs, herbal approaches, what to do about weight gain, sex drive and chronic diseases and how to maintain a positive attitude. Remember, you're only as old as you feel.
The (He)Art of Herbal Entrepreneurship  (Jeff Rieves) Most people think of entrepreneurs as simply business owners. True entrepreneurs are some of the most innovative, passionate people in the world. In the same way that herbalists learn their craft, they can also develop many of the skills of the successful entrepreneur. Discover what those skills are and find out how YOU can put them to use in your business or practice TODAY.
Herbal and Other Aids for a Good Night's Sleep! (Camille Edwards) Come join Camille as she presents a list of well-known and perhaps not so well-known herbal remedies for getting a good night's sleep. Herbal blends will be discussed and made available for tasting! Also, discussion will involve other aids, including self-hypnosis, to accompany your herbal tea for a good night's sleep!
Herbal Quality Control: Methods of Analysis (Marie Knight) Meeting the documentation standards for regulatory compliance and having a sound quality assurance program often means gaining familiarity with analytical testing. If you've seen the acronyms TLC, HPLC, or GC on an herbal Certificate of Analysis, but aren't sure exactly what they mean, you aren't alone! In this class, we'll go through some of the test methods commonly used to establish identity, purity, potency, and safety of botanical material. The focus will be more on the principles and the process behind the testing rather than specific regulatory requirements. While some of the material will be technical in nature, the class is intended for an audience of non-scientists.
Herbal First Aid Around the Home (CoreyPine Shane) First Aid remedies are some of the most useful herbal remedies to know for those "just in case" moments. We will talk about commonly available herbs including some kitchen spices to treat shock, pain, stomach ache, bee stings, and more. You will learn how to put together your own first aid kit as well as how to use herbs you already have or that grow in your yard for fast treatment.
Herbingo (Jane Abe with Madge Eggena) Play Herbingo and sharpen your plant identification skills. Participants are encouraged to help each other out, so everybody learns. There will be lots of great prizes to reward the lucky winners!
Herbs and Food for Your Ayurvedic Dosha Type (Michelle Collins) Ayurveda literally means the science of life, and offers wisdom and insight into how your unique physical constitution influences what foods and herbs can best promote health and well-being. In this session, you will learn more about the three doshas and take a simple quiz to help you determine your dosha type. You will also learn how to tailor your food and herb choices for your dosha type to help maintain health and well-being.
A Journey in Shamanism: Nature's Spirit Helpers (Janice Maleyeff & Camille Edwards) We will be utilizing the "Keeper of the Cauldron" technique to shift our consciousness to discover the power of plants, rocks, elements, and our animals and their significance and connection with us. This workshop will also include a review of the herbs and oils to enhance spiritual healing in our daily lives, and a closing ceremony honoring our ancestors and expressing gratitude to Mother Earth – All with DRUMMING! Since this will be held outdoors, please bring any drums and rattles for energy and a notepad for knowledge.
Let's Grow Stevia! (Jeanine Davis) Stevia is increasingly popular as a healthy, natural sweetener. Learn about the botany, history, uses, and production of stevia. We'll discuss growing it in our gardens and the research NC State is involved in to make it a commercial crop in the Southeast. We will also make a simple stevia product to take home.
Making Amazing Herbal Tinctures (CoreyPine Shane) Hands-on medicine making class. Additional $5 fee. Making your own herbal extracts is a surprisingly simple process. All you need is a postal scale and you can be making your own alcohol extracts of herbs, creating fresh high-quality tinctures for a fraction of what you pay in the store. Together we will make fresh and dry plant tinctures and each participant will take home a small batch for themselves.
The Medicine Side Show (Mechell Turner) Take a look at patent herbs, snake oil, root medicines and healing on the run. From the old west side show, to big Pharma, even herb companies, has the medicine show disappeared or has it just grown more sophisticated? In today's world of the quick fix how do we herbalists fit in and can we heal or help on the fly? Can we still heal on the road as we travel?
Mending a Broken Heart (Mechell Turner) Take a look at the cardiovascular system basic anatomy and herbs for its health and healing. From the time the heart first beats till death and even transplanting them for keep beating how do we keep our hearts healthy along with those veins and arteries? We will look at herbs, oils, and even meditation and other healing modalities for our human hearts and emotions.
Nature's Practical Magic! (Janice Maleyeff and Jane Fitch) Learn "Nature's Practical Magic!" A workshop where we will co-create our own personal blends with intention! Magical plants and oils help focus your creative energy to realize your dreams. This workshop promises a "cauldron" full of magical plants, and lots of suggestions on how best to use them in teas, oils and more! Create a "magical" spray to cleanse and clear your aura! This workshop is a favorite! $5.00 charge
Qigong (Jane Fitch) Get your day started with positive energy flow. Experience Qigong – an easy and powerful exercise movement that anyone can do.
The Science of Fermentation: Experiments in Zymology (Ryan Marie Kelly) This class will detail the specifics of what is happening "behind the scenes" with the fermentation process. We will discuss how the story unfolds on the microscopic level and how this affects the macroscopic final product. Different applications of fermented processes will be discussed, as will different ingredients and their purposes. This class is for the curious minds that wonder about the science and history of zymology (fermentation science) and for the hungry bellies that enjoy sampling the results!
Signs of the Times: Astrology for Health (Phyllis Light) Fire, Earth, Air, Water ~ The Signs in the Heavens and the four elements can serve as traditional guideposts for health and prosperity. The core principle of health astrology is based on assignment of Zodiac signs and heavenly bodies to different parts of the body. Understanding the influence of planetary changes can be an integral aspect of a health plan. Join Phyllis in a discussion of the 12 signs, the 4 elements and their effects on the body and on health ~ A fun and informative class!
The Six Tissue States (Mathew Wood) A simple, clear introduction to the 'forgotten energetics' that lie behind traditional Western herbalism. The tissues can be irritated or excited (too prone to heat), depressed (cold, underactive), atrophic (dry, hardened), stagnant (damp, toxic), tense (physical or psychological tension), and relaxed. Our Western remedies and formulas naturally fit these categories: sedatives, coolants (excitation), stimulants, aromatics (depression), mucilages, emollients, oils, tonics (dry, atrophic), alteratives and laxatives (stagnation), relaxants (tension), and astringents (relaxation).
Supernatural Sodas and Magical Meads (Marc Williams) In this class we will take a trip through the ancient art of brewing beverages. We will talk about various drinks while also crafting a mead and reviewing step by step directions for making your own special brews. This class will empower each student to reclaim the wonder of uniquely created concoctions to please any palate!
The Tao of Tea (Mechell Turner)  Hidden within the leaves and roots of plants is this thing we call tea. There are rituals, medicines, healings, revolutions and gifts surrounding just an herb and water. Discover the gifts, history and rituals surrounding this comfort measure for the soul.
The Taste of Herbs (Phyllis Light) Come taste, savor and guess the name of the herbs. This class will explore a proving of three different simple decoctions based on their taste. Together we'll discover what that taste has to say about the medicinal properties of the plant and how the plant can be used. This is a hands-on, or rather, tongue-on, experiential class. You'll be surprised how much information a simple taste can reveal.
 
The Three Selves of the Shamans (Mathew Wood) Learning to understand and integrate the conscious self, the animal self, and the dream self. The importance of the personal medicine animal or animal spirit, which provides sensation and sight for both the physical and the dream selves. A psychology of shamanism that can be used with herbal medicine.
Time to Indulge Yourself with Nature's Potions- Herbal Skincare (Janice Maleyeff with Jane Fitch) Join me on this hands-on workshop. Learn to identify a selection of herbs, essential oils and carrier oils that have a special affinity for our skin. This workshop includes learning to pamper yourself from your head to your toes the "natural" way. You will learn to make hair rinses, anti-aging serums, facial steams, clay masks, body powders and wonderful scrubs with ingredients from around the World! Make a sugar or salt scrub with your own unique fragrance! $5.00 charge
Wonderful Woodies (Marc Williams) In this class we will have the opportunity to focus in on trees and shrubs collectively known as woody plants. We will take a walk and talk about proper identification as well as uses for food, medicine and beauty.
The Woodland Garden – a PowerPoint Plant Walk (Jane Abe & Madge Eggena) Take an "armchair" plant walk and get acquainted with NC woodland medicinal plants, shrubs and trees. Many of these species are endangered, so learning to recognize, value, rescue, and grow them is of great importance. If you have a little shady area, it can be the beginning of your woodland garden, which will bring you great joy, especially in spring.
Woods Walk to the Waterfall (CoreyPine Shane) Come explore the amazing diversity of medicinal plants in the woods up the hill from the conference center, which includes many deep woodland medicinals, both common and uncommon. Be aware that this is a bit of a hike, but pays itself off in great plants and ends up at a small waterfall. Bring good shoes.
Was the information on this page helpful?
This page can also be accessed from:
go.ncsu.edu/readext?466598