Are You Planning on Attending One of the College Listening Sessions?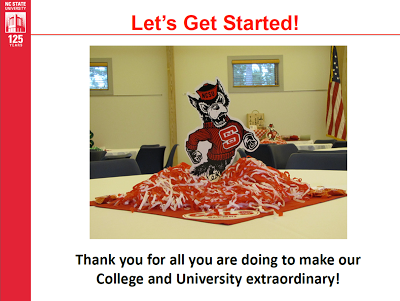 Photo from the Listening Session Powerpoint
2/72013: Back in early January I told you about the NC State University College of Agriculture & Life Sciences Listening Sessions that are being held across the state. These are designed for the public to share with our new Dean, Richard Linton, what they think the college should be doing to serve the citizens of North Carolina. You can read about what people have said at these sessions already. But most importantly, you should plan on attending one. If you want NC State University working on specific problems or issues, say so!
There are two more sessions left:
February 8: Western North Carolina Ag Center, Virginia Boone Center, 1301 Fanning Bridge Road, Fletcher,  8-10 a.m. | invitation and registration
February 8: Madison County Extension Center, 258 Carolina Lane, Marshall, 4-6 p.m. | invitation and registration
These sessions are long over, but they take place across the state from time to time. If you want to provide input, be sure to sign up for newsletters from the college.