Visit Our Research Hop Yard on July 16th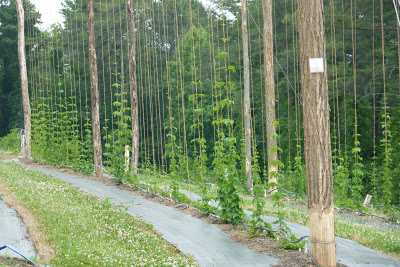 If you are a western NC hops grower, considering becoming a hops grower, a local brewer, or just interested in hops, we welcome you to visit our new research hop yard on Saturday, July 16th starting at 9:00 a.m. The hop yard is located on the Mountain Horticultural Crops Research Station in Mills River. Directions (http://www.ncagr.gov/research/MountainHortDirections.htm). When you get to the research station, turn onto Butler Farm Road which is on the opposite side of the road from the station (there will be signs). Follow that out to the hop yard.
The event will take place from 9:00 a.m. to 11:00 a.m. We will show off the trellis system, explain where we got the poles, hardware, and plants, and tell you why we built it the way we did. There are ten varieties in production that you can study. The sister project in Raleigh will also be described. Cooperators on the project will explain issues related to growing hops in western NC, including diseases, insects, weeds, and marketing. Growers from the Eastern Hops Guild (http://www.easternhopsguild.blogspot.com/) will be present to share some of their experiences, too.
The event will take place rain or shine, so come prepared. There might be a nominal fee to offset the costs of putting on the event, so please bring a little cash. After the event, consider attending the 2nd Annual Hops Festival in Weaverville: http://www.echoviewfarm.com/content.php?s=what's_new.
****
To reduce the possibility of spreading diseases or insects from hop yard to hop yard, please do not visit your hop yard right before coming to ours and clean your shoes and hands before entering yours after visiting ours.
****
This project and event is made possible with funding from a USDA Specialty Crops Block Grant administered through the NC Department of Agriculture & Consumer Services.