Late Blight Confirmed (Really) in Henderson County, NC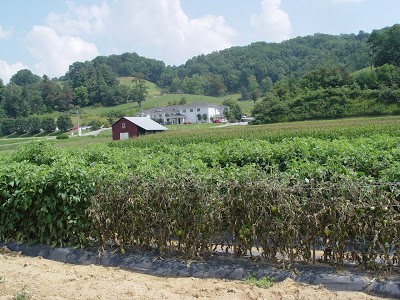 Variety trial from 2009 showing late blight resistant (background)
 and late blight susceptible (foreground) tomato varieties
I am just going to copy our pathologist's email from 12:55 p.m. today. Please keep in mind that this is aimed at western North Carolina. If you live in another state or a different part of North Carolina, please contact your closest extension agent or state pathologist.
"Hey Everybody-
This morning we found and confirmed late blight (by microscopic examination) in one small shaded area of a conventional tomato field in Henderson County. We have not been able to confirm its presence anywhere else in the tomato production areas of NC this summer, so I believe this is the start of the tomato late blight epidemic in WNC. We've had some rains recently and I'm sure it's out there elsewhere now, or soon to arrive.
Fungicide recommendations for controlling late blight on fresh market tomatoes start at week 9 in the NC tomato foliar fungicide guide. It can be found at this link.
https://mountainhort.ces.ncsu.edu/programs/plantpath/tomato-spray-guide/tomato-spray-guide.pdf
In addition, there is information (fact sheet) on this disease in North Carolina, including pictures of the symptoms at this link.
Check out the different diseases and select the one under Tomato Late Blight.
http://www.cals.ncsu.edu/plantpath/extension/fact_sheets/index.htm
Please make sure to get your preventative sprays on as soon as possible if you grow tomatoes in late blight prone areas. Chlorothalonil works well as a protectant if you do not yet have the pathogen in your field. If already established in your tomato field, it would be best to apply something more than a protectant like Presidio (+ chlorothalonil) or Ranman.
If you need a confirmation of late blight in your fields, please do not hesitate to call your agent or my lab to submit a sample.
Thanks
Kelly"
(Kelly Ivors is an Associate Professor and Extension Specialist in the Department of Plant Pathology at NC State University. She is located in the same building I am in Mills River, NC.)
Organic Farmers:
If you are an organic farmer, click on "late blight" on the right side bar labels of this blog for more information on how to attempt to control this disease. This is a very difficult disease to control with the organic options currently available. Your best line of defense is to plant varieties with some late blight resistance.