Ramps Season Is Almost Here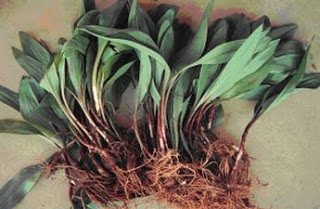 I noticed that some of the ramps we have planted on the research station are just starting to emerge from under the leaf litter and scattered patches of snow. That and the few blooming crocuses are a sure sign that spring is almost here in the southern mountains of western North Carolina. Ramps have a long and colorful history in the Appalachian mountains. They have long been valued as an early spring tonic after a long winter without fresh fruits and vegetables. They are now the centerpiece of dozens of fundraiser festivals held from North Carolina to Pennsylvania.
We have a web page devoted to ramps at
http://ncherb.org/
. There you will find a short production leaflet, links to festival listings, and sources of ramp seeds and bulbs so you can grow your own. More detailed information is included in the book I co-authored with Scott Persons entitled Growing and Marketing Ginseng, Goldenseal, and Other Woodland Medicinals. It is available through the publisher,
http://www.brightmountainbooks.com/titles/growing.html
 or various online booksellers. Another great book is Having Your Ramps and Eating Them, Too by Glen Facemire. You can order it through his website
http://rampfarm.com/
.