Urge You to Read and Respond to Negative Article on Organics in Major Vegetable Magazine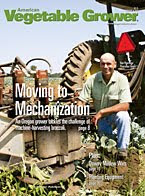 I encourage you to read this op-ed page from the February issue of American Vegetable Grower Magazine and send in your opinion as requested:
http://www.growingproduce.com/magazine/american-vegetable-grower/
This is a prominent magazine for the vegetable industry and has been increasingly covering organic agriculture. But this article makes the argument that organic agriculture is actually worse for the planet than conventional. In particular, it talks about the very low yields obtained with organics. I'm sure many of you have an opinion on that!
I recently gave a presentation where we examined this issue. Here are just a few of the university studies that I cited that show that organic farming can be at least as productive at conventional:
NC State University:
2008 Studies on Opportunities with Organic and Heirloom Tomatoes
University of California:
http://asi.ucdavis.edu/programs/rr/research/copy_of_crop-yields